Velvet worms (phylum Onychophora) are considered "living fossils" because their morphology has changed little for 500 million years (Monge-Nájera & Hou, 1999). They are small terrestrial invertebrates that live in humid dark places, mainly under leaf litter and rocks, or inside micro-caverns, rotten trunks and bromeliads (Monge-Nájera, 1994; Morera-Brenes, 2012).
The phylum has around 200 described species, geographically distributed in the continental plates that once formed Pangea (Oliveira, Read & Mayer, 2012). There are two families, Peripatopsidae, in the southern hemisphere; and Peripatidae, in the equatorial region. They are characterized by the solubility (Peripatidae) or insolubility (Peripatopsidae) of body pigments in ethanol and by a few general morphological traits (Jerez-Jaimes & Bernal-Pérez, 2009).
Three species are reported from Mexico: Macroperipatus perrieri (Bouvier) from Veracruz, Oroperipatus eisenii (Wheeler) from Nayarit, and Oroperipatus goudoti (Bouvier) from an unknown location (Wheeler, 1898; Bouvier, 1905; Cupul-Magaña & Navarrete-Heredia, 2008). However, O. goudoti is among nomina dubia for its imprecise type locality (Oliveira et al., 2012). There are also DNA sequences from two unidentified Mexican species: DNA103556 in GenBanK® (Murienne, Daniels, Buckley, Mayer & Giribet, 2014), and CTM202-13, CTM204-13, CTM205-13, CTM206-13 in Barcode of Life Data Systems (BOLD Systems, 2014).
To our knowledge, this is the first record of onychophorans from Chiapas.
From July, 2015, through October, 2017, a total of 29 onychophorans were found in the campus of Universidad de Ciencias y Artes de Chiapas, UNICACH, located in Tuxtla Gutiérrez, Chiapas, Mexico (16°46'33''N-93°07'21''W). On July 18th, 2015, individuals shown in Digital Figure 1 were collected, anesthetized with ether, sacrificed in alcohol, and fixed with 10% formaldehyde for 24 to 48 hours. They are stored in 70% alcohol and deposited in the Colección de Macroinvertebrados del Laboratorio de Acuacultura y Evaluación Pesquera (LAyEP), Instituto de Ciencias Biológicas (ICB), UNICACH (MZ-MI-O-0001 y 0002).
We identified them as Oroperipatus sp. for the two pedal papillae on each side, but they did not match characters for the geographically closest species, Oroperipatus eisenii (according to the key in Peck, 1975). Males, which are rarer, smaller and reddish than females, are 3-4cm long and have 24-25 leg pairs (N=6). Females are 4-7,5cm long and have 28-29 pairs (N=19). All length measurements are from live animals.
They occur in vertisol ground covered with grassland and small trees (up to 10m high), mostly Prunus virginiana, Pseudobombax ellipticum, and Leucaena leucocephala. The original vegetation in the area was low deciduous forest (Breedlove, 1981). The worms were found by turning over small rocks during the rainy season; apparently they spend dry periods deeper in the ground, in micro-caverns made by earthworms and other organisms.
This new species and record expand the known distribution of onychophorans in Mexico, ecologically from the evergreen forest of Veracruz to the deciduous forest of Tuxtla Gutiérrez, and geographically by 400Km (Digital Figure 2).
In Mexico, there may be at least 14 species (Monge-Nájera, 2000) suggesting that the vast majority remain unrecognized. Common names allow the aggregation of data for conservation of undescribed species (Sosa-Bartuano, Monge-Nájera, & Morera-Brenes, 2018). We propose the common name "Tuxtla Brownish Purple Velvet Worm" for this species, so that it can be studied and protected with it until it receives formal description.
We thank three anonymous reviewers for useful comments.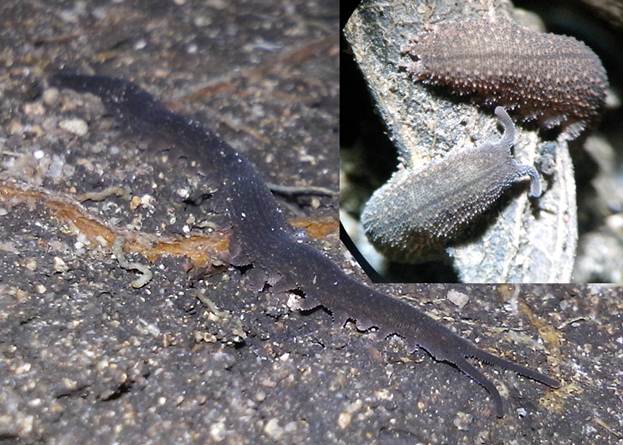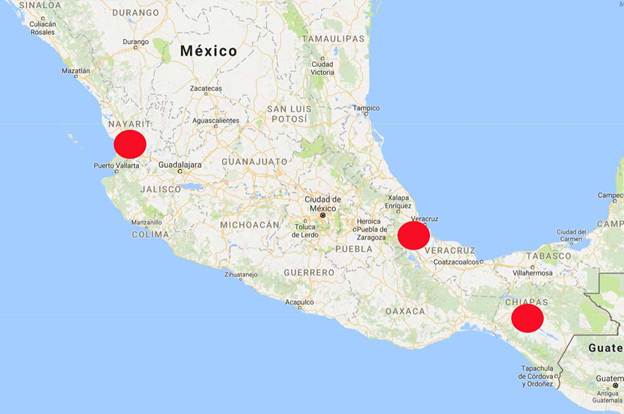 See Digital Appendix at: / Ver Apéndice digital en: http://investiga.uned.ac.cr/revistas/index.php/cuadernos