Services on Demand
Journal
Article
Indicators
Related links
Similars in SciELO
Share
---
Print version ISSN 1409-1429
Rev. costarric. salud pública vol.20 n.2 San José Jul./Dec. 2011
Original Breve
Persistence of Chagas disease active transmission among dogs in Venezuela rural community
Persistencia de la enfermedad de Chagas y trasmisión activa entre perros en una comunidad rural de Venezuela
Claudina del Carmen Rodríguez-Bonfante1, María Elena Rojas2, Elis Aldana3, Juan Luis Concepción4, Rafael Armando

Bonfante

-Cabarcas5

---
Abstract
Objective: To determine human and canine seroprevalence, entomologic indexes and risk factors for Chagas' disease transmission in a rural community.
Method: 48 houses, 162 people, and 55 canines were sampled. Serum anti-Trypanosoma cruzi antibodies were determined by means of ELISA and MABA techniques using recombinant antigens. Triatomine collection were carried out by passive search by community and an active/systematic house, T. cruzi infection was determined by direct microcopy.
Results: 2,47% of the humans and 18.18% of the canines were positive to serum anti-T.cruzi antibodies. The triatomine bugs found was 98.24% and 1.76% Eratyrus mucronatus. Vector's indexes were: 0 % vector infection, 18.75% indoor house infestation, 25% outdoor house infestation, 0% indoor house colonization, 83.33 % outdoor house colonization and 4.16% house co-infestation. We obtained an association between house triatomine infestation and visualization of wild animals in the house.
Discussion: there are not vector transmission of Chagas disease in the community, however, high dog's prevalence is related to their biological habits and behavior.
Key words: Chagas disease, Trypanosomiasis, Seroepidemiologic Studies, Dog disease, Venezuela. (source: MeSh, NLM)
Resumen
Objetivo: Determinar la seroprevalencia humana y canina del índice entomológico y factores de riesgo para la transmisión de la enfermedad de Chagas en una comunidad rural.
Materiales y Método: Se incluyeron 48 casas, 162 personas, y se tomaron muestras de 55 caninos. se determinaron anticuerpos séricos anti-Trypanosoma cruzi mediante técnicas de ELISA y MABA, utilizando antígenos recombinantes. La recolección de triatominos se llevó a cabo mediante búsqueda pasiva sistemática en la comunidad y casas. La infección por T. cruzi se determinó mediante microscopia directa.
Resultados: El 2,47 % de los humanos y 18,18 % de los caninos fueron positivos al suero anti-T.cruzi. Los triatominos encontrados fueron T. maculata (98,24 %) y Eratyrus mucronatus (1,76%). No hubo infección vectorial, el 18,75 % de infestación intradomiciliaria, 25 % de infestación extradomiciliaria, no hubo colonización intradomiciliar, el 83,33 % de colonización extradomiciliar y el 4,16 % de infestación intradomiciliar. Se obtuvo una asociación entre infestación intradomiciliar por triatominos y la visualización de los animales en la casa.
Discusión: No se observo transmisión vectorial de la enfermedad de Chagas en la comunidad, sin embargo, la alta prevalencia en perros está relacionada con sus hábitos biológicos y el comportamiento.
Palabras clave:
Enfermedad de Chagas, Tripanosomiasis, Estudios

seroepidemiológicos

, Canis familiaris, Venezuela. (

fuente

:

DeCS

, BIREME)
---
In Venezuela, there has been a decline in prevalence rates for Chagas disease, from 44,5 % in the decade 1950 to 1960(1), to 9,2 % in the year 1990(2) and 8,3 % in the year 2000(3). These results have been the result of replacement of dwellings by houses, vector elimination through residual insecticide spraying, blood screening and prevention programs in endemic areas (2) and have led to a significant decrease in the rate of house's infestation by Rhodnius prolixus (2), the principal vector in the transmission of Chagas' disease in Venezuela. As a consequence of this fact, secondary vectors are gradually occupying areas left free by R. prolixus.
Infestation and/or colonization of human houses by Panstrongylus geniculatu s(4-6), Triatoma maculate (7) and Eratyrus mucronatus (7,8) has been documented in Venezuela. T. maculata is a wild species found naturally infected with T. cruzi, also it has been frequently observed in the peridomicile (9), it is often found in coastal and xerophilous regions; it is considered primarily ornithophily, especially associated with chickens and pigeons in the peridomicile (10).
Recently, our team working in a neighbor area observed T. maculata as predominant vector, with ability to infest (16,4 % infestation index) and colonize (39,1 % colonization rate) human dwellings. The presence of T. maculata in the domicile and peridomicile was associated with the presence of hens, disorder in the surroundings, goats, poultry and/or domicile miss distribution; achieving 1,57 % and 6,36 % of human's and dog's seroprevalences, respectively (7).
Demonstration of active transmission requires diagnosis of acute disease in the population and/or demonstration of seropositivity in infants, however, in most cases acute phase is unapparent and social improvements that have occurred in communities at endemic areas has led to a effective protection of children against vector contact. Therefore, seroepidemiology studies in humans have limited significance to demonstrate active transmission.
By contrast, in endemic areas dogs are highly exposed to triatominos, because of their dynamic behavior; sometimes sleep, hunt and feed on wild animals infected meat, while it live in the house in a direct contact with humans. On the other hand, their short life make it sentinels for Chagas' disease active transmission (11, 12). Therefore, in the present paper we conducted a seroepidemiologic study to determine active transmission of Chagas' disease in T. maculata infested area.
Materials and methods
The study was conducted in the community of El Paso de Baragua, parish Xaguas, Urdaneta Municipality, Lara State, Venezuela, located at latitude N 10°36'40'', longitude 70°22'12'', 425 meters above sea level, with a seasonal continental climate with temperatures ranging between 27 °C and 39 °C, with xerosol soils, 527,8 ml four years rainfall and thorn vegetation. Human activities are agriculture and goat breeding. Most common crops are melon, onion, sorghum, paprika and aloe.
Sampling unit was the house. Houses were selected by stratified cluster on updated area maps. We assumed 99 % confidence level, 2,03 % maximum error and a prevalence of Chagas' disease assumed as 5 %.
Sample was represented by 48 houses. Inclusion criteria were the following: permanent residents of the housing, no discrimination of sex or age and a voluntary written consent. We included canines that were docile enough to allow medical procedures. In total 162 people were studied, 68 males and 94 females and 55 dogs, 48 males and 7 females. Project and written consent was approved by Health Science School Ethics Committee at the Universidad Centrocidental "Lisandro Alvarado".
Serological diagnosis and entomological studies
Determination of serum anti-T.cruzi antibodies was performed by ELISA and MABA and collection of triatomines was carried out through a passive search by inhabitants and by active and systematic review of the domicile and peridomicile by two members of the research team. Content of the insect's distal intestine portion was diluted in saline 0,9 % and was studied by optical microscopy in search of T. cruzi. For details see Rojas et al, 2008 (7).
Data are presented in absolute values, percentages or numerical indexes. In order to evaluate relationships between Chagas' disease epidemiological risk factors with house infestation or human seropositivity, we did a binary logistic regression analysis, using version 11.0.1 SPSS program. It was accepted as significant a p<0,05.
Results
Of the 162 people surveyed, 4 individuals were found to have anti-T.cruzi antibodies, representing a 2,47 % overall prevalence; three females and one male, their ages were 77, 86, 99 and 27 years old, respectively.
Of the 55 dogs sampled, 10 were seropositive, given an overall prevalence of 18,18%; all were males, the youngest was 8 months old and the oldest 7 years old, while the remaining were distributed as follow: age 3 years (n=3), 2 years (n=2), 5 years (n=2) and 6 years old (n=2).
A total of 114 triatomines were captured, of which 112 (98,24 %) belonged to T. maculata specie: 81 caught in the peridomicile (35 adults and 46 nymphs) and 31 were captured in the domicile (all adults). Two (1,75 %) of the specimens corresponded to E. mucronatus adults caught in the domicile.
Of the 48 households surveyed, in 9 (18,75 %) triatomines were found in the domicile and in 12 (25 %) bugs were found in the peridomicile. In 11 (91,66 %) peridomiciles we have collected nymphs, eggs and/or nymphal exosqueletons. In 2 (4,16 %) household two triatomine species cohabited. Microscopic analysis of T maculata and E mucronatus dejections showed no presence of parasitic flagellar forms similar to T. cruzi. Of the 11 communities studied, in 10 (90,91 %) we found triatomines.
When interviewing individuals, 90,9% reported to know vector, 91,82% recognized it from a vector's sample, 100% recognized T. maculata and 4,95% recognized 2 other vectors.
Human individual risk factors most frequently observed and risk factors associated with housing are displayed in table 1.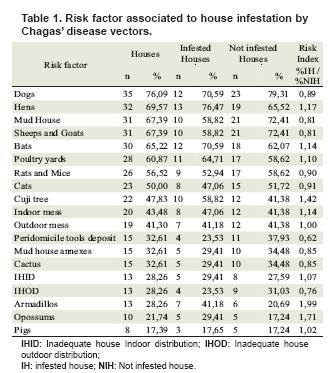 When performing statistical analysis, we found an association between observation of armadillo and opossum in and around the house with peridomicile and domicile infestation, respectively (see table 2 and 3).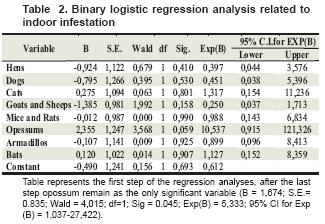 Table represents the first step of the regression analyses, after the last step opossum remain as the only significant variable (B = 1,674; S.E.= 0.835; Wald = 4,015; df=1; Sig = 0.045; Exp(B) = 5,333; 95% CI for Exp (B) = 1,037-27,422).
Table represents the first step of the regression analyses, after the last step armadillos remains as the only significant variable (B = 1,877; S.E.= 0.738; Wald = 6,461; df=1; Sig = 0.011; Exp(B) = 6.533; 95% CI for Exp (B) = 1,537-27,776).
Discussion
In this paper, we report T. maculata house infestation index above infestation indexes observed in the 60's and 70's decades in Venezuela (9), similar results have been reported recently in neighborhood communities at Xaguas parish (7). These results indicate that T. maculata populations able to infest houses have experienced an increase in recent decades, as a result of ecosystem changes because human forest invasion and lack of triatomino natural food sources.
However, in this study we did not observe house colonization, which coincides with results observed in Roraima Brazil (13). These results contrast with the reported in neighborhood communities at Xaguas parish and in Colombian rural community, where it were observed 39,1 % and 38,3 % colonization indexes, respectively (7,10).
Soto et al. (14) studied specimens of T. maculata collected in a same region and they did not found any significant differences between specimens from domicile and peridomicile, indicating that both vector populations are similar, therefore this specie has not yet developed adaptive mechanisms to domiciliation.
However, high rates of household infestation reported in other parts as Xaguas parish and in Colombian rural community, suggest that populations of T. maculata are at different stages of adaptation to human dwellings and the ability of T. maculata to domiciliate might depend on the ecological and environmental characteristics.
This work confirms the presence of E. mucronatus in the domicile at Urdaneta municipaly. Domicile infestation by E. Mucronatus has been documented in Venezuela (7, 8), suggesting a change in wild vector behavior.
In this study seroprevalence of anti-T.cruzi antibodies in dogs was superior to human, indicating that T. cruzi transmission dynamics in dogs is different from that of humans. Low triatomine infection index observed in this study questions transmission vector, however, by observing dog's habits, we were able to observe that most ate raw meat and were hunters, indicating oral route as the most feasible to explain high seropositivity rates.
Dog's prevalence observed in this study was higher than that observed in studies conducted in Venezuela (6,36 %) (7), Costa Rica (5,2 % to 9,9 %) (15, 16) and United States (3,6 % to 7,5 %) (17, 18), notwithstanding, higher prevalences have been reported in rural areas of Venezuela (67,6 %) (19) and Argentina (40 %) (20).
High Chagas dog's disease prevalence had been related to the presence of acute cases (19) and high prevalence of infected inhabitants, both associated with high levels of triatomine infection (20); these phenomena were not observed in this study, indicating that source of dog's infection is outside house.
We report an association between triatomine's house infestation and the presence of armadillos and opossum around the house. This phenomenon is related to the wild characteristics of the community and because vector migration is happening from the selvatic area to house, acting wild mammals as triatomine carriers.
A high frequency of risk factors related to Chagas' disease, which are evenly distributed in the community, which together with the presence in the area of all elements of T. cruzi transmission cycle, presages a resurgence of human disease transmission in the short term. This would require an adaptation of T. maculata to have as food sources domestic mammals that behave as efficient reservoirs.
Knowledgments
Study funded by the Urdaneta Municipality Hall (Lara State, Venezuela) and by FONACIT, Project No 2007001425.
---
References
1. Aché A. Programa de Control de la Enfermedad de Chagas en Venezuela. Bol Dir Mal San Amb. 1993; 33:11-22 [ Links ]
2. Aché A, Matos AJ. Interrupting Chagas' disease transmisión in Venezuela. Rev Inst Med Trop São Paulo 2001; 43:37- 43. [ Links ]
3. Organización Panamericana de la Salud / Organización Mundial de la Salud. Análisis preliminar de la situación de salud de Venezuela. Disponible en:http://www.ops-oms.org.ve/site/venezuela/ven-sit-salud-nuevo.htm. Consultado 05/ junio 2007). [ Links ]
4. Rodríguez-Bonfante C, Amaro A, García M, Mejías L, Chacón P, García R et al. Epidemiología de la Enfermedad de Chagas en el Municipio Andrés Eloy Blanco, Lara, Venezuela: Infestación triatomínica y seroprevalencia en humanos. Cad. Saúde Pública, Río de Janeiro, 2007; 23(5):1133-1140. [ Links ]
5. Reyes-Lugo M, Rodríguez-Acosta B. Domiciliation of the selvatic Chagas disease vector Panstrongylus geniculatus Latreille, 1811 (Triatominae: Reduviidae) in Venezuela. Trans Royal Soc Med Hyg 2000; 94: 508. [ Links ]
6. Feliciangeli D, Carrasco H, Patterson J, Suarez B, Martínez C, Medina M. Mixed domestic infestation by Rhodnius prolixus Stäl, 1859 and Panstrongylus geniculatus Latreille, 1811, vector incrimination, and seroprevalence for Trypanosoma cruzi among inhabitants in El Guamito, Lara State, Venezuela. Am J Trop Med Hyg 2004; 71: 501-505. [ Links ]
7. Rojas ME, et al. Estudio seroepidemiológico y entomológico sobre la enfermedad de Chagas en un área infestada por Triatoma maculata (Erichson 1848) en el centro-occidente de Venezuela. Cad Saude Publica. 2008; 24:2323-2333. [ Links ]
8. Soto A, Barazarte H, Molina D. Primer registro de Eratyrus mucronatus, Stäl 1959 (Hemíptera, Reduvidae) en el ambiente domiciliario en Venezuela. Entomotrópico, Boletin de Entomología Venezolano 2001; 16: 215-217. [ Links ]
9. Tonn R, Otero M, Mora E, Espinola H, Carcavallo R. Aspectos biológicos, ecológicos y distribución geográfica de Triatoma maculata (Erichson 1848), (Hemiptera, Reduviidae), en Venezuela. Bol Dir Mal San Amb 1978; 18: 16-24. [ Links ]
10. Luitgards-Moura J, Borges-Pereira J, Costa J, Zauza P, Rosa-Freitas M. On the possibility of autochthonous Chagas disease in Roraima, Amazon region, Brazil, 2000-2001. Rev Inst Med Trop Sao Paulo. 2005; 47(1):45-54. [ Links ]
11. Cortés L, Suárez H. Triatominos (Reduviidae: Triatominae) en un foco de enfermedad de Chagas en Talaigua Nuevo (Bolívar, Colombia). Biomédica (Bogotá) 2004; 25: 568-574. [ Links ]
12. Castañera MB, Lauricella MA, Chuit R, Gurtler RE. Evaluation of dogs as sentinels of the transmission of Trypanosoma cruzi in a rural area of north-western Argentina. Ann Trop Med Parasitol. 1998; 92: 671-683. [ Links ]
13. Cardinal M, Castañera M, Lauricella M, Cecere M, Ceballos L, Vázquez-Prokopec G et al. A prospective study of the effects of sustained vector surveillance following community-wide insecticide application on Trypanosoma cruzi infection of dogs and cats in rural northwestern Argentina. Am J Trop Med Hyg. 2006; 75: 753-761. [ Links ]
14. Soto Vivas A, Rodríguez C, Bonfante-Cabarca, R y Aldana E. Morfometría geométrica de Triatoma maculata (Erichson, 1848) de ambientes doméstico y peridoméstico, Estado Lara, Venezuela. Boletín de Malariología y Salud Ambiental. 2007. XLVII: 231-235. [ Links ]
15. Reyes L, Silescky E, Cerdas C, Chinchilla M, Guerrero O, Presencia de anticuerpos contra Trypanosoma cruzi en perros de Costa Rica. Parasit. Lat 2002; 57: 66-68. [ Links ]
16. Zeledón R, Solano G, Burstin L, Swartzwelder JC Epidemiological pattern of Chagas' disease in an endemic area of Costa Rica Am J Trop Med Hyg. 1975; 24:214-225. [ Links ]
17. Beard CB, Pye G, Steurer FJ, Rodriguez R, Campman R, Peterson AT, et al. Chagas disease in a domestic transmission cycle, southern Texas, USA. Emerg Infect Dis. 2003; 9:103-105. [ Links ]
18. Bradley KK, Bergman DK, Woods JP, Crutcher JM, Kirchhoff LV. Prevalence of American trypanosomiasis (Chagas disease) among dogs in Oklahoma. J. Am. Vet. Med. Assoc 2000; 217:1853-1857. [ Links ]
19. Crisante G, Rojas A, Teixeira MM, Añez N. Infected dogs as a risk factor in the transmission of human Trypanosoma cruzi infection in western Venezuela. Acta Trop. 2006; 98:247-254. [ Links ]
20. Gürtler RE, Cécere MC, Rubel DN, Petersen RM, Schweigmann NJ, Lauricella MA et al. Chagas disease in north-west Argentina: infected dogs as a risk factor for the domestic transmission of Trypanosoma cruzi. Trans R Soc Trop Med Hyg. 1991; 85:741-745. [ Links ]
*Correspondencia a: 1 MD MSc Medicina Tropical, Unidad de Investigaciones en Parasitología Médica, UCLA, claudina.rodriguez@gmail.com
2 MD, Medicina Integral del Medio Urbano, Universidad Centro-Occidental "Lisandro Alvarado" (UCLA), Barquisimeto, Estado Lara, tia_nanena@hotmail.com;
3 PhD Biology, Laboratorio de Entomología "Herman Lent", Facultad de Ciencias, Universidad de Los Andes (ULA), Mérida, Estado Mérida, aldana@ula.ve;
4 PhD Fundamental Medicine, Laboratorio de Enzimología de Parásitos, CIGEN, ULA, concepci@ula.ve; 5MD PhD Science, Unidad de Bioquímica, UCLA, rcabarca@ucla.edu.ve.
---
Received 25 noviembre 2011 Accepted 15 december 2011