The oral cavity is a dynamic environment that hosts a vast variety of microorganisms, whose lifestyle is characterized by the formation of biofilms or dental plaque (Kolenbrander, 2000). The biofilm develops naturally over the dental surface from extracellular polymers and microbial consortia (Costerton et al., 1994), which offer protection and resistance for microbial species against environmental variations and antimicrobial agents (Marsh, 2005). Dental plaque prevents oral cavity colonization by exogenous species, thus, maintaining a beneficial balance with the host. However, when this homeostasis is lost, it alters the metabolism of microbial communities, transforming the biofilm composition to a pathogenic state that permits diseases emergence such as dental caries (Marsh, 2005).
From the Public Health perspective, this disease represents a global problem (OMS, 2012) with incidence between 33.27 and 98 % in the general population of Latin America and Colombia (Bönecker & Cleaton-Jones, 2003; Minsalud, 2014). Treatments to control dental plaque and prevent dental caries include brushing (Ghassemi et al., 2013), dental floss (Löe, 2000), mouthwash, chlorhexidine, fluoride (Rodrigues, Lussi, Seemann, & Neuhaus, 2011; James et al., 2017), phenols and derivates of quaternary ammonium (Twetman, 2004). Although there is enough evidence on the preventive effect of several of these substances (Bascones & Morantes, 2006; Kalesinskas, Kačergius, Ambrozaitis, Pečiulienė, & Ericson, 2014), it has been found that they can produce adverse effects when used in concentrations above therapeutic dosages or over a long period of time. These products can induce dental fluorosis (fluorides) (Jha, Mishra, Sharma, & Damodaran, 2011), dysgeusia and dental pigmentation (chlorhexidine) (Varoni, Tarce, Lodi, & Carrassi, 2012), burning sensation, and erosive effects on the enamel (quaternary ammonium compounds and phenols) (Bascones & Morantes, 2006; de Araújo, Gonçalves, Martins, Lima, & Araújo, 2015). In addition, there are groups with special needs regarding oral hygiene, in whom a chemical option for prevention and therapy may have higher utility. Some examples are children with autistic disorder (Lowe & Lindemann, 1985), individuals with Sjögren's syndrome (Mavragani & Moutsopoulos, 2010), and patients with head and neck cancer which, as consequence of treatments associated to its pathology (Pfister et al., 2015), are more susceptible to caries (Jensen et al., 2010). Renewed interest is noted on the use of oral hygiene products formulated from natural compounds, among which essential oils are highlighted (Lang & Buchbauer, 2012).
As natural products, essential oils have a great chemical diversity and a huge potential in antimicrobial therapies (Lang & Buchbauer, 2012). The species Cymbopogon citratus (DC) Stapf is a perennial aromatic plant belonging to the Poaceae (Gramineae) family, cultivated in tropical and sub-tropical regions around the world (Gupta & Jain, 1978). It is commonly known in several countries as "hierba luisa", "citronella", "lemongrass", "lemon tea", "holy cane" (Negrelle & Gomes, 2007), and "limoncillo" in Colombia (Tofiño-Rivera et al., 2016).
From the bio-prospection perspective, C. citratus essential oils and their citral and myrcene compounds have been reported as substances with antimicrobial properties on S. mutans planktonic cultures (Bernardes et al., 2010; Vargas et al., 2010) and S. mutans biofilms (Tofiño-Rivera et al., 2016; Almeida, Akisue, Cardoso, Junqueira, & Jorge, 2013, Oliveira et al., 2017). However, regarding its adverse effects on oral mucosa, several cell lines present very variable results (Koba et al., 2009; Correa-Royero, Tangarife, Durán, Stashenko, & Mesa-Arango, 2010; Vargas et al., 2010; Kpoviessi et al., 2014; Tofiño-Rivera et al., 2016).
The aim of this study was to assess the antimicrobial activity of C. citratus essential oil and its main components, citral and myrcene, on the bacterial viability of S. mutans biofilms and their cytotoxicity on HaCaT cells and human fibroblasts.
Materials and methods
Plant material: Plant material used was classified in the "José Cuatrecasas" Herbarium at Universidad Nacional in Palmira with Code 4952 20/10/2014. C. citratus essential oil was obtained by the Association of Kankuamos Indigenous (ASOPROKAN), by steam distillation of plant leaves. These leaves were harvested during the rainy season, October-November. Phytochemical analysis for the oil were carried out at the Chemistry of Natural Products research group, Universidad de Córdoba in Montería, Colombia. Gas chromatography was used with mass selective detector (GC-MS) (Tofiño-Rivera et al., 2016).
Biofilm cultivation: To obtain biofilms, S. mutans ATCC UA159 was cultured by using the MBECTM 19131 commercial system (Innovotech, 2015), according to the protocol described by Tofiño-Rivera et al. (2016) with some modifications. First, 4-6 colonies were taken from a Brain Heart agar plate (BHI) (BHI; Merck KGaA. Darmstadt, Germany), transferred to 5 mL of BHI broth and incubated until obtaining an inoculum corresponding to the 1.0 McFarland (8 h ~). One mL was diluted in BHI broth to 1:30; inoculum control was verified through serial dilutions from 10-1 to 10-8 (UFC/mL) and with it to be establish the initial count. MBECTM system was inoculated with the 1:30 dilution and cultured on a benchtop shaking agitator at 110 bpm and 37 ºC for 48 h in controlled atmosphere with 5 % CO2, replacing the culture medium with fresh medium at 24 h.
Biofilm growth control: After incubation, biofilms formed on the pegs surface of the MBECTM device lid were washed with saline solution at 0.9 % for 2 min to remove any poorly adhered bacterial cells. To verify the biofilm growth, seven pegs were removed from the lid of the MBECTM device (positions A12 - G12) and processed as follow:
Viable cell count (CFU/mL): Three pegs (B12, C12 and E12) were immersed in a microtitre dish containing 200 μL of neutralizing solution and placed in a sonicator (MIDMARK Soniclean model M 150) at 42 kHz for 30 min. Then, serial dilutions were made from 10-1 to 10-8 for their subsequent seed in BHI agar plates, through the spot technique and CFU/mL count after 48 h of incubation.
Crystal violet staining: Two pegs of the same series (A12 y G12) were dipped in 1 mL of crystal violet 0.5 % and stained during 30 min. Then, pegs were soaked in sterile distilled water and dried at room temperature; thereafter, they were observed in a stereoscope at 6.5 magnification (Zeiss Stemi 2000-C) to verify any biofilm formation.
Scanning electron microscopy (SEM): to observe the typical morphology of biofilms and formation of polysaccharides by S. mutans, SEM was used. Pegs D12 and F12 were fixed overnight in glutaraldehyde 2.5 % at room temperature for 24 hours. Thereafter, they were washed three times with saline phosphate buffer (SPB) for 5 min each, and then washed with distilled water and dehydrated during 15 min in increasing concentrations of ethanol at 50 %, 75 %, and 95 %, followed by a final dehydration with ethanol at 100 % for 15 min with three repetitions. Finally, the biofilms were dried to a critical point, coated with gold, and analyzed using a scanning electron microscope (SEM) (JEOL JSM 6490 LV).
Bacterial viability of S. mutans biofilms: Susceptibility tests were conducted on a microtiter plate (challenge plate) (Nunclon Delta Surface; Nunc, Roskilde, Denmark) containing different concentrations of tested substances and their respective controls. For C. citratus essential oils and their main components citral (cis+trans 95 % by Alfa Aesar. Karlsruhe, Germany) and myrcene (technical grade, Sigma-Aldrich Chemical. St. Louis, MO, USA), concentrations of 1, 0.1, and 0.01 µg/mL dilution in ethanol at 1 % and chlorhexidine at 0.5 % was used as positive control. For growth controls, ethanol at 1 %, and growth in neutralizing solution were placed in column 1 and the sterility control in column 12. The lid with pegs was dipped in the challenge plate and incubated for 5 min at 37 ºC with CO2 and shaking agitation at 110 bpm. After this time, biofilms were transfered to another microtiter plate (recovery plate), which contained 180 µL of neutralizing solution in each well, (Innovotech, 2015). It was left to rest during 30 min and then brought to sonication for 30 min at 42 kHz to detach biofilms. Serial dilutions from 100 to 10-7 were prepared with the sonication products, which were seeded in BHI agar plates using the spot seeding technique. After 48 h of incubation, the count of CFU / mL was performed.
To calculate the percentage of dead bacterial cells the following formula was applied:
[1-(Mean CFU treated/Mean CFU initial bacterial number)]×100 %
The reduction logarithm was calculated through the formula:
Log10 Reduction =
Mean Log10 Untreated Control Peg - Mean Log10 Treated Pegs
All tests were performed with seven replicates and three repetitions.
Eukaryotic cells viability assessment through bromide reduction of 3-(4.5-dimethylthiazol-2-yl)-2.5-diphenyltetrazole (MTT): Assessment of eukaryotic cells viability was performed according to a method developed by Mosmann (1983) as modified by Denizot and Lang (1986) and indications of the ISO 109935-2009 standard (ISO, 2009).
The HaCaT cells and human fibroblasts (skin from healthy patient) were kindly donated by the Tissue Engineering and Cellular Therapies group (GITTC) from University of Antioquia. The HaCaT cells were cultured in DMEM (Dulbecco's Modified Eagle Medium. Sigma-Aldrich Chemical. St Louis, MO, USA) supplemented with 5 % of fetal bovine serum (FBS. Gibco, Grand Island, NY, USA) and 100 µg/mL penicillin and streptomycin (Gibco, Grand Island, NY, USA); and incubated at 37 ºC in moist atmosphere and CO2 at 5 %. Primary cultures of fibroblasts were maintained in identical conditions except for the SBF content that was 10 %.
The initial inoculum was 1x104 and 5x104 cells/well for HaCaT cells and fibroblasts respectively. After allowing cell adhesion, treatments were conducted with solutions containing 1, 0.1, and 0.01 µg/mL of C. citratus essential oil and its components citral and myrcene, using H2O2 0.5 mM as cellular death control and ethanol 1 % as vehicle control. After 24 h exposure, 10 μL of MTT 5 mg/ mL were added (Sigma-Aldrich Chemical. St. Louis, MO, USA), followed by 4 h incubation in darkness. Finally, to dissolve the formazan crystals, 100 μL of isopropanol-HCl 0.04 M (Merck KGaA. Darmstadt, Germany) were added and absorbance was measured at 571 nm in an ELISA reader (Multiskan FC - Thermo Scientific). Viability was expressed as percentage respect to death control. All tests were performed by triplicate.
Data was analyzed using SPSS® statistical package version 22. Statistical assumptions were assessed by applying normality and homoscedasticity tests. Intra-group comparison was achieved through one-way ANOVA, Kruskal Wallis tests and multiple comparisons of means against a control (post-hoc) via Dunnet's test. Differences were considered statistically significant if P < 0.05.
Results
Phytochemical analysis: The principal components of C. citratus essential oil were citral (58 %) and myrcene (15.6 %). The complete chemical profile of essential oil used was previously published (Tofiño-Rivera et al., 2016).
Effect on S. mutans bacterial viability on biofilms: Crystal violet staining was used as a visual control of biofilm growth, identifying a cover on the peg as of 24 h. Through SEM, the typical morphology of S. mutans was observed and, a characteristic formation of biofilm polysaccharides, with more structured arrangement at 48 h (Fig. 1).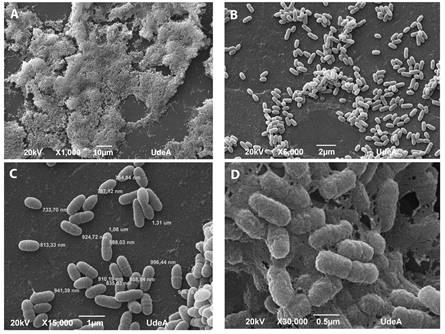 The C. citratus essential oil and the citral and myrcene components have the highest mortality percentages at a concentration of 1 µg/mL (93, 96 y 91 % respectively), with a decrease in the inhibitory effect at the lowest concentrations (Table 1). According to the statistical analysis, no statistically significant difference were found among the substances (essential oil, citral and myrcene; Kruskal Wallis tests = 0.393) in addition, these also did not present significant difference with chlorhexidine (Kruskal Wallis tests = 0.06).
| Substances assessed | Concentration | Viable cell count (Log 10 CFU/ml) | % Mortality | Reduction Log |
| --- | --- | --- | --- | --- |
| C. citratus essential oil | 1 µg/mL | 5.71 | 93 | 1.19 |
| - | 0.1 µg/mL | 6.01 | 87 | 0.90 |
| - | 0.01 µg/mL | 6.31 | 74 | 0.59 |
| Citral | 1 µg/mL | 5.50 | 96 | 1.41 |
| - | 0.1 µg/mL | 5.89 | 90 | 1.01 |
| - | 0.01 µg/mL | 5.94 | 89 | 0.96 |
| Myrcene | 1 µg/mL | 5.85 | 91 | 1.06 |
| - | 0.1 µg/mL | 5.95 | 89 | 0.96 |
| - | 0.01 µg/mL | 5.96 | 88 | 0.94 |
| Chlorhexidine | 0.5 % | -- | 100 | -- |
| Neutralizing solution control | - | 7.44 | 0 | -- |
| Vehicle control (Ethanol) | 1 % | 7.60 | 0 | -- |
Cellular viability using MTT test: The MTT test on HaCaT cells and fibroblasts showed that none of the concentrations evaluated for C. citratus essential oil or its components, citral and myrcene had toxicity on the cells exposed during 24 h; with highly significant differences in relation to the "death control" H2O2 0.5 mM (Anova test < 0.05). The treatments do not have significant differences with the positive vehicle control (oneway ANOVA and multiple comparisons of means against a control via Dunnet's test P > 0.05) (Fig. 2).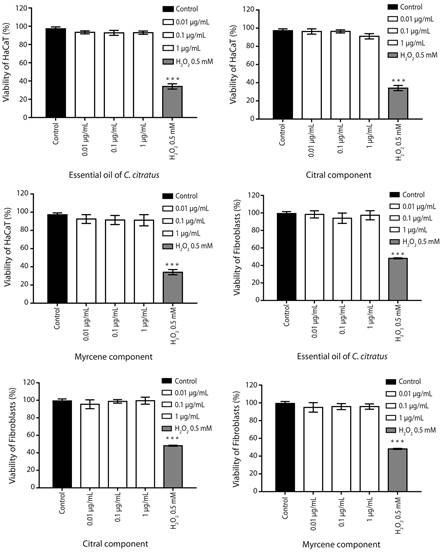 Discussion
Aromatic plants and their derivatives, and especially essential oils, are of biotechnological interest due to their vast chemical diversity and biological properties (Lang & Buchbauer, 2012). The chemical composition of C. citratus essential oil from plants cultivated in the Kankuamo indigenous reservation in Atanquez, Cesar Department, Colombia, presents citral (58 %) and myrcene (15.6 %) as main components, classifying this plant within the citral chemotype (Tofiño-Rivera et al., 2016). Similar results were obtained by other groups using a similar method of extraction. They identified citral (46.97 %) and myrcene (27.83 %) or citral (75 %) and β-Pinene (10.1 %) as main components of the C. citratus oil (Gbenou et al., 2013; Kpoviessi et al., 2014). Differences can be attributed to the collected leaf maturity state and the distillation time applied (Durán, Monsalve, Martínez, & Stashenko, 2007).
The bacterial viability effect on biofilms, assessed through the MBEC technique, demonstrated that C. citratus essential oil, citral and myrcene at all the tested concentrations strongly reduce the viability of S. mutans ATCC UA159 on biofilms cultured during 48 h (mortality between 74 % and 96 %) without significant differences against chlorhexidine (P = 0.06). These finds are interpreted favorably, given that chlorhexidine is one of the most studied and effective anti-plaque treatments (Gunsolley, 2010). Besides, these results are in accordance with previous reports (Tofiño-Rivera et al., 2016) for C. citratus essential oils at concentrations 1, 0.1, 0.01 µg/100 mL, which found inhibition on biofilms (mortality between 93.1 and 95.4 %) at 24 h. Almeida et al. (2013) also identified the inhibitory effect of C. citratus essential oil at a concentration of 0.5 % on S. mutans biofilms ATCC 35688 cultured in acrylic discs within a 24 well microtiter plate for 120 h (Almeida et al., 2013)
The results obtained in this research demonstrate that citral and myrcene also present activity on the bacterial viability of S. mutans in biofilms either pure or mixed with other components of essential oil. In previous reports, this is identified and attributed to the antimicrobial effect of phytochemicals, which interact with bacterial cellular structures affecting their function (Saad, Muller, & Lobstein, 2013). Some phytochemicals action mechanisms on microbial cells consist in affecting the integrity of the cellular membranes whether by altering fatty acids composition (Di Pasqua, Hoskins, Betts, & Mauriello, 2006), or surface physicochemical properties (i.e.: hydrophobicity, electric conductivity, filtration of soluble proteins and reducing sugars) (Lopez-Romero, González-Ríos, Borges, & Simões, 2015; Li & Yu, 2015), or modifying the activity of calcium and potassium ion channels (Saad et al., 2013). These can also cause irreversible damage to cytoplasmic membranes, leading to microorganism's death by unbalance in the ion homeostasis. Conservation of t ionic balance is an integral part of maintaining the cell's energy status, as well as transporting solutes, regulating metabolism, controlling turgor pressure and motility (Li & Yu, 2015). Membrane level damage is a mechanism identified by Saad et al. (2013) for C. citratus essential oil on Escherichia coli.
Oil safety was verified, in terms of cytotoxic effect on eukaryotic cells. Tissues fulfill biological functions that maintain mucous membranes integrity and they should not be affected by exogenous substances (Newman, Takei, Klokkevold, & Carranza, 2006). The results show that the C. citratus essential oil and its components citral and myrcene, do not evidence cytotoxicity on the HaCaT cells or on human fibroblasts (Fig. 2) in a 24 h treatment. Similar results were reported by other authors, using HaCaT cells and concentrations of the essential oil between 25 and 100 µL/mL (Koba et al., 2009). Neither Correa-Royero et al. (2010) exposing Vero cells to concentrations < 200 µg/mL and Tofiño-Rivera et al. (2016) exposing CHO cells at concentrations of 1, 0.1, and 0.01 µg/100 mL identified essential oil cytotoxicity. Vargas et al. (2010) evidenced slight cytotoxicity on odontoblastoid cells at a concentration of 1 000 µg/mL during 120 min, however, this may be attributed to the use of higher concentration, than prior studies (Vargas et al., 2010). Kpoviessi et al. (2014), identified toxicity on CHO cells and non-carcinogenic human fibroblasts with IC50 = 10.63 and 39.77 μg/mL, respectively (Kpoviessi et al., 2014), possibly due to the different essential oil chemical composition (citral and β-Pinene), usually obtained when plants are cultured at high temperatures. Plant material from which essential oil was extracted was collected during the rainy season, evidencing that the change on phytochemistry, associated to the effect of environmental factors and physiological status of the biomass collected, can influence upon its cytotoxic effect (Durán et al., 2007; Gbenou et al., 2013).
It must be considered that the cytotoxicity results reported in this research were obtained by exposing cells to 24 h treatments in order to identify residual effects of the substances evaluated, related to sub-lethal or lethal effects on the tissues that prolonged exposure may cause. Recommended time for mouthwash use is about 2 min (Duckworth, 2013), so the effectiveness on the control of S. mutans biofilms and harmlessness of the C. citratus essential oil and its main components with eukaryotic cells highlight the safety of the substances and backs the formulation of natural product. These formulations would contribute to the selective control of microbial populations from dental plaque and pursue the maintenance of normal oral microbiota that performs beneficial functions for the host (Marsh, Head, & Devine, 2015).
We foresee the use of experimental models that permit a greater approach to the possible in vivo therapeutic effect of formulations designed for the conditions of the oral cavity. C. citratus is included in the list of medicinal plants recognized for therapeutic purposes and medicinal use, hence its formulation could be openly sold (Invima, 2016), according to the colombian law (MPS, 2004). Access to C. citratus and its benefits has been available for the Colombian population base, associated to its analgesic and anti-inflammatory effect in traditional medicine. For that reason, it has important ethnobotanic tradition in the different indigenous communities (Trujillo & Correa-Múnera, 2010; Ortega, 2015). In addition, regarding to its biocide effect, steam stripped essential oils derived from this plant have greater stability than its extracts (Bandoni, Retta, Di Leo Lira, & Baren, 2009). Both advantages can be used as alternative to boost the economy agro-industrial of the local communities where biomass is produced. It is important to remark the background of the Kankuamo Indigenous Association of Agroecological Producers (ASOPROKAN), located in Atanquez, Colombia in organic production of C. citratus essential oil. (Ulloa, 2011; Vélez, Rátiva, & Varela, 2012). Considering the obtained results and the biotechnologically promising performance showed by C. citratus essential oils, we recommend to move toward the formulation of products for oral health based on these bio-inputs, by prioritizing technical support to the communities that produce these bio-products and ensuring its availability for low-income communities.