Aquatic ecosystems, such as streams, lakes, rivers and reservoirs have been disturbed and significantly affected by increasing anthropic activities (McAllister, Hamilton, & Harvey, 1997). The most serious problems are seen in urban areas where watercourses receive input of industrial and domestic sewages, sediment and trash, changes such as plumbing and waterproofing of soils, resulting in the modification of its physical, chemical and biological structure (Shepp & Cummins, 1997). There is a change of abiotic environment due to various impacts suffered, and consequently, there is a decrease in water quality, loss of aquatic biodiversity and changes in the dynamics of biological communities (Goulart & Callisto, 2003; Gutiérrez-Fonseca & Lorion, 2014; Shepp & Cummins, 1997).
Different organisms are used in evaluations of environmental impacts on aquatic ecosystems, including macroinvertebrates (especially insects): these may be viable for laboratory studies when their ecological characteristics are known, and can respond more quickly to changes in the environment, through changes in the community structure (Callisto, Moretti, & Goulart, 2001; Goulart & Callisto, 2003; Reece & Richardson, 1999). The pattern of distribution of aquatic organisms is the result of these biotic and abiotic interactions, the habitat (substrate, flow, turbulence, pH, among others) and food availability (Resh & Rosen&berg, 1984). Communities respond to different environmental factors in different ways, including changes in the composition, structure and functional characteristics of the species (Fenoglio, Badino, & Bona, 2002; Heino, Muotka, & Paavola, 2003).
Black flies are among the most abundant components of benthos in lotic systems. This family comprises 2 151 valid species (Adler & Crosskey, 2014). Simuliidae has a worldwide distribution, which is locally limited by the existence of proper lotic microhabitats for their immatures (Eymann, 1993), trophic relationships (Mcintosh & Townsend, 1996), as well as competition (Colbo & Porter, 1979) and food availability (Hart, 1986).
Simuliidae is an important family as some of its species are vectors of the Onchocerciasis and Mansonelosis (Cerqueira, 1959; Shelley, Hernández, Maia-Herzog, Dias, & Garritano, 2010). In addition, bites of females cause allergies to humans and certain animals, causing losses in agriculture and tourism (Couceiro, Hamada, Sagot, & Pepinelli, 2014). Thus, this family has an economic and medical importance (Shelley et al., 2010).
Simullidae ecology and their potential as bioindicators are still poorly studied in the Neotropical Region (Figueirö & Gil-Azevedo, 2010; Travi & Vargas, 1978). Particularly in Brazil, most of the few recent studies on behav&ior of black fly immatures is restricted to the Amazon (e.g. Hamada, McCreadie, & Adler, 2002), Mata Atläntica biomes (e.g.: Bertazo & Figueirö, 2012; Coppo & Lopes, 2010; Couceiro et al., 2014; Figueirö, Araüjo-Coutin-ho, Gil-Azevedo, Nascimento, & Monteiro, 2006; Figueirö, Nascimento, Gil-Azevedo, Maia-Herzog, & Monteiro, 2008; Pepinelli, Trivinho-Strixino, & Hamada, 2005;), and just a few in the Cerrado (Figueirö et al. 2015; Figueirö, Gil-Azvedo, Maia-Herzog, & Monteiro, 2012; Figueirö, Maia-Herzog, Gil-Aze-vedo, Monteiro, 2014; Landeiro, Pepinelli, & Hamada, 2009).
Even though the bioindicator potential of black flies is a concept well established in the literature, only a few recent studies deal with the actual effect of habitat quality in the dis&tribution of black fly larvae in the Neotropical region (e.g.: Strieder, Ronchi, Stenert, Scherer, & Neiss, 2006) and Paleartic regions (e.g.: Illesova, Beracko, Krno, & Halgos, 2010; Kazanci & Ertunc, 2010).
The use of bioindicators in Brazil is strongly focused in a multimetrical ecological index approach (Docile & Figueirö, 2013). In the present study we have investigated the black fly spatial distribution in relation to abiotic factors correlated to water quality, in order to provide data that may allow its use as a standalone indicator of lotic systems integrity. In this sense, we have tested the hypothesis that environmental changes, related to urbanization, lead to decreased abundance and loss of the black fly fauna number of species.
Materials and Methods
Study area and sampling sites: The study was conducted in the River Watershed Paque-quer located in the municipality of Teresöpolis, mountainous region of the State of Rio de Janeiro, (coordinates 22°28'35" S - 43°03'19" W - 22°12'56" S - 42°55'00" W), and covering an area of 12 904 km2. In this region, the rainy season occurs from November to February (more than 250 mm/month), and the dry season from June to September (less than 100 mm/ month). The natural vegetation in the region is part of the Atlantic Forest biome. Population profile is predominantly urban (96.3 %) and is concentrated in the district headquarters, Teresopolis. Twenty streams of first and second order were chosen for sampling: 10 outside the urban perimeter and other 10 inside the urban perimeter of Teresopolis (Table 1). The sampling was conducted during the dry season, August and September 2012.
Abiotic factors: The sampling sites were classified in relation to their integrity degree using a visual protocol based on Petersen (1992) and Barbour, Gerritsen, Snyder and Stribling (1999) to produce a habitat integrity index (HII) as performed in Nessimian et al. (2008). This protocol is composed of 31 items describing stream environmental condition in relation to land use, riparian zone, streambed characteristics, and stream channel morphology, aquatic vegetation, presence of domestic or industrial effluents and other urban-related characteristics. Each item is composed of five alternatives ordered in a way to represent a degree of integrity. The HII value varies from zero to one, the closer the value is to 1, the more integrate the system is.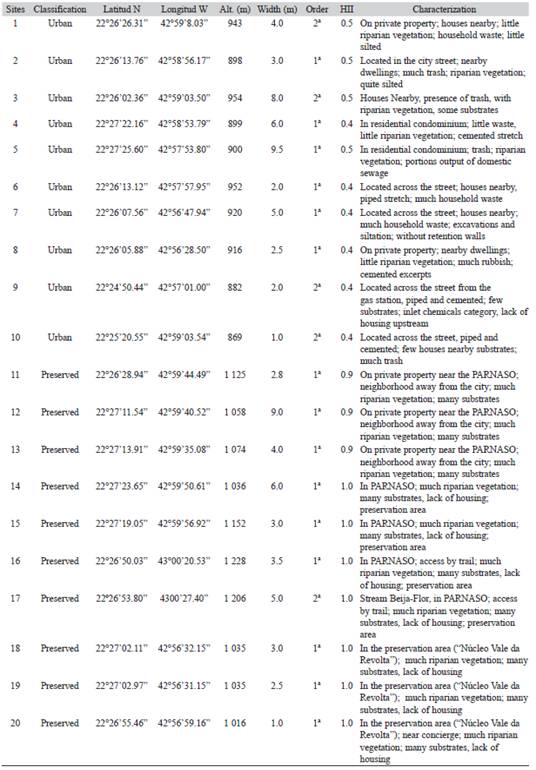 Fifteen physical and chemical water vari&ables were measured. At the time of sampling, water temperature and dissolved oxygen (mg O2/L) were measured using a portable oxym-eter (YSI-model F-1550). A sample of water (2 L) was removed from each stream and transported at 12 °C, to posterior laboratory analyses of the following variables: turbidity (HI 93414); electrical conductivity and salinity (YSI-model EC 300 condutivimeter); pH and alcalinity (Camourze, 1994); total phosphorous, dissolved phosphorous and orthophosphate through the method proposed by Mackereth, Heron and Talling (1978); ammonia (Bower & Holm-Hansen, 1980); total nitrogen and nitrate through the Kejdahl method described in Mackereth et al. (1978); chlorophyll a in the watercolumn and periphyton through the method described in Nusch and Palme (1975). The negative values and zero means that the abiotic variable was not detected in the analysis. These analyses were made in the Laboratorio de Limnologia, Instituto de Biologia, UFRJ.
Larvae sampling and identification: The black flies were sampled on rocky substrates in riffle /rapids in a section of 50 m along the stream with the help of a kick-net sampler (area of 30x30 cm) and 500 mesh. The samples were placed in plastic bags with 80 % ethanol. The material was separated and the larvae were sorted in morphotypes and later the final instar specimens were identified to species level with the help of taxonomical literature (Coscaron & Coscaron-Arias, 2007; Hamada & Adler, 2001), and by using direct comparison with the material deposited at Museu Nacional Uni-versidade Federal of Rio de Janeiro (MNRJ), where the specimens are currently deposited.
The Pearson correlation coefficient was calculated between all measured variables. For pairs of variables with coefficient above 80 % one of them was removed from subsequent analyzes. The sampling sites were analyzed in relation to their ecological distances using Cluster Analyses (Bray-Curtis distance) using PAST (Hammer, Harper, & Ryan, 2007) sta&tistical package. We removed the sites where there was no presence of Simuliidae to contribute to a higher resolution graphic in the biotic cluster. The relations of the abiotic factors with the spatial distribution of black fly larvae were investigated after log transformation and down-weight of rare species through Canonical Correspondence Analysis using 5000 Monte-Carlo permutations in the CANOCO 4.5 statistical package (Ter Braak & Smilauer, 2002). Subsequently, we performed multiple regressions analysis to investigate if there was a significant relationship of the sampled data and the classification of streams provided by the HII.
Results
The sites 7, 8, 9 and 10 (Table 1) showed the lowest scores of HII (0.4), indicating that these are the extremely impacted streams, while sites 11 to 20 (Table 1) scored over 0.9, being the most preserved. The variables elec&trical conductivity, salinity and nitrate showed Pearson's correlation coefficient above 80 % with turbidity (86 %) and total nitrogen (93 %), and were excluded from subsequent analyzes. The visual evaluation (HII) differed in relation to the water physico-chemical evaluation, in which more variation in the characterization of the sampling sites was observed (Table 2). The Cluster Analysis applied to the biotic data (species abundances) grouped sites 8 and 10, impacted streams that showed few black fly individuals. Sites 1 to 5, 9 and 11, considered intermediate, and with great abundance of black flies formed another group, and sites 12 to 15 and 17 (the later three considered preserved), with few individuals formed one group. Black flies were absent in sites which are not grouped in the analysis (Fig. 1a). The abiotic values showed streams 14 to 20 were classified as preserved, while streams 1 to 5, 9 and 11 to 13 were classified as intermediate, and streams 6, 7, 8 and 10 were classified as impacted (Table 2), but the Cluster Analysis grouped 6, 7, 8 and 10, and another group with sites 17, 18, 19 and 20 (Fig. 1b).
A total abundance of 488 larvae were collected, 5 (1.02 %) in extremely impacted streams, 470 (96.31 %) in intermediate streams and 13 (2.66 %) in preserved streams, distrib&uted in eight species: Lutzsimulium hirticosta Lutz, 1909. S. (Chirostilbia) subpallidum Lutz, 1910, S. (Chirostilbia) pertinax Kollar, 1832, S. (Inaequalium) subnigrum Lutz s.l., 1910, S. (Psaroniocompsa) incrustatum s.l. Lutz 1910, Simulium sp. A, Simulium sp. B, Simulium (Trichodagmia) and Enderlein 1934. In the extremely impacted streams, only three indi&viduals of S. pertinax and two S. incrustatum s.l. were found. However, intermediate streams presented all previously listed species, except for Simulium sp. B. The most abundant was S. pertinax with 235 individuals, followed by S. incrustatum, with 113 individuals. On the other hand, abundance and species richness were smaller in preserved streams, where S. subnigrum s.l., S. incrustatum s.l. , Simulium sp. A, Simulium sp. B and Lutzsimulium hirticosta were present. Simuliidae were not found in sites 6, 7, 15, 16, 18 and 19.

Rj.T = Temperature, DO = Dissolved Oxygen, Tur = Turbidity, TP = Total Phosphorus, DP= Dissolved Phosphorus; AM = Ammonia; ORT = Orthophosphate; ALC = Alkalinity, TN = Total Nitrogen, CLO= Chlorophyll (water column); CLOS = Chlorophyll (substrate).
The Canonical Correspondence Analysis (Fig. 2) showed that S. subpallidum and S. pertinax were positively associated to turbidity, total phosphorus and pH, suggesting associa&tion to moderately impacted sites. On the other hand, L. hirticosta and Simulium sp. A were negatively associated to phosphorus, dissolved phosphorus, turbidity, total nitrogen, alkalinity, chlophylla a, orthophosphate, thus indicating association to more preserved sites while S. subnigrum and Simulium sp. B did not show a clear distributional pattern. S. incrustatum seemed to be generalistic. The two axes of the CCA explained 0.798 and 0.623 respectively. The linear regressions of the HII scores with species richness, diversity and abundance were not significant, except for the abundance of S. pertinax (p = 0.01).
Discussion
Several studies have shown that the pres&ence and abundance of black flies are influenced by various environmental variables, which are directly related to anthropogenic pressures, such as loss of riparian vegetation or frequent disturbances (Feld, Kiel, & Lautenschlager, 2002; Rühm, 1998; Timm, 1995; Zhang, Malqvist, & Englund, 1998). Furthermore, black flies are known to react to physical and chemical degradations, including acidification and organic pollution (Seitz, 1992). Black fly larvae are able to live in conditions of anoxia for several hours, and are filter-feeding organisms, feeding on organic matter, which favors their adaptation to different environments.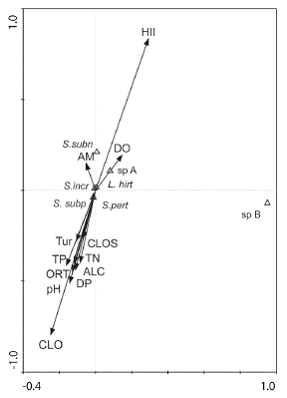 Another explanation for the results would be the intermediate disturbance hypothesis (Connell, 1978). The intermediate sites were submitted to constant sewage discharges, which seem to generate Figueirö et. al (2014) a mod&erate mortality in the species, which is not high enough to the point of them fail to recover, but at the same time, is sufficient to limit growth of more competitive species, which could exclude less competitive species. In this study, urban streams with intermediate disturbance had greater abundance of blackflies. If the low species richness at low intensities of disturbance is due to competitive exclusion, as proposed by this hypothesis, there is something that remains to be tested. stated that even though the IDH has recently met criticism in the literature (Fox, 2013), many authors still defend its validity stating that although it is prone to misinterpretations, resulting from the use of different diversity measures (Sheil & Burslem, 2013), it is still robust when used with species rich&ness (Svensson, Lindegarth, Jonsson, & Pavia, 2012), as in the present study.
The CCA showed that S. subpallidum, S. incrustatum s.l and S. pertinax are positively associated to most variables measured, but the cluster analysis showed their association with intermediate impacts, rather than in more severely impacted sites. Paiva (2000), developed studies in the state of Paraná to observe the survival of some species of black flies under laboratory conditions, with the addition of organic matter in water. His results indicate that organic pollution may increase the species richness of Simuliidae. Additionally, the study of Zhang et al. (1998) reported that certain situations (natural or man-made) can cause an increase in the diversity of the group. The authors argued that communities of black flies can be indicative of disturbed sites, such as, floods, droughts, storms. The Simuliidae are known to deal with perturbations in rivers than many of its competitors and predators (Hemphill & Cooper, 1983).
The relationship of the number of individuals of S. pertinax points to the prevalence of this species in locations classified as interme&amp;diate streams (p < 0.05). This association was also found in another study with S. pertinax in streams impacted in countryside (Strieder et al., 2006). It is considered an anthropophilic species, on the Northern coast of Sao Paulo and Southern Brazil S. pertinax is the main species that exerts a role of insect nuisance due to aller&amp;gic reactions caused by bites influencing well-being of the population as a whole (Strieder &amp; Corseuil, 1992). Therefore, increasing the number of biological control programs to miti&amp;gate these impacts (Araújo-Coutinho, 1995; Regis, Silva, Alice &amp; Santos, 2000). However, these organisms are important to the ecosystem because they represent a bond of connection between particulate matter and predators in the food chain (Malmqvist, 1994).
Results obtained by Strieder et al. (2006) in Southern Brazil, showed higher incidence of S. pertinax in streams impacted by high con&centrations of nitrite and nitrate in agricultural landscape. Couceiro et al. (2014) also studied the distribution of blackflies in locations with disturbance caused by human modification of the landscape (agricultural practices).
Most studies on the bioindicator potential of Simuliidae have tended to approach agricultural impacts, while our results, on the other hand, suggested that these species are present in intermediate urban pollution impacted streams, but absent in heavily impacted sites. Thus, our data suggested that some species such as L. hirticosta and sp. A, are associated to more pristine breeding sites, others, may be bioindicators of moderately impacted streams, such as S. pertinax, S. subnigrum and S. subpallidum.