Services on Demand
Journal
Article
Indicators
Related links
Similars in SciELO
uBio
Share
---
On-line version ISSN 0034-7744Print version ISSN 0034-7744
Rev. biol. trop vol.58  suppl.3 San José Oct. 2010
Coral reefs and residents of the U.S. Virgin Islands: A relationship of knowledge, outdoor activities and stewardship
Christine Settar & Teresa Turner
---
Key words: knowledge, behavior, stewardship, coral reefs, U.S. Virgin Islands, survey, Acropora.
Palabras clave: conocimiento, conducta, responsabilidad, arrecifes de coral, Islas Vírgenes EEUU, Acropora, encuesta.
---
Survey design: The survey was designed to be completed it in less than 20 min. and the participants were informed of this at the beginning of the survey. A consent form stated that all information would be anonymous and that the results would be made available to the public. All protocols were followed in applying for human subject research, and the survey was deemed exempt by the University of the Virgin Islands Institutional Review Board. A pilot survey (June 2008) aided in the design of the official survey (July-October 2008). All questions were asked in a sensitive and objective manner, and each person had the option of terminating their survey session if they no longer wanted to participate for any reason (see Settar 2009 for survey).
This survey was designed to assess both knowledge and behavior in terms of coral reefs. "Knowledge" questions included (1) basic ecological definitions related to coral reefs, (2) identity of specific organisms typically found on and around reefs, and (3) awareness of status of federally endangered/threatened species. For example, "What is coral?" was asked to gauge whether islanders know that coral is a living animal. Residents were asked to identify a picture of Acropora palmata, elkhorn coral, because it was once a common reef-building coral (Bellwood et al. 2004) but has recently been federally listed as a threatened species (Anonymous 2005, Hogarth 2006). Residents were asked to identify the herbivorous urchin,
Of the total group of non-swimmers, -snorkelers, or –divers (58 people), 64.4% were correct in identifying the urchin picture.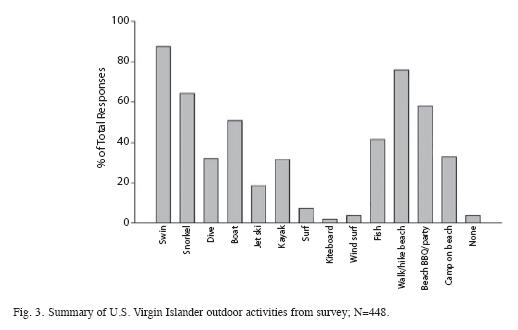 Knowledge and Behavior: Correlation analysis Overall, in this sample people who engaged in more outdoor activities were more likely to have general knowledge of coral reefs, demonstrated by a weak but significant correlation (Spearman p<0.01, df=100, r2=0.128). People who had general knowledge of coral reefs were more likely to engage in positive stewardship activities, for example, attending beach clean-ups or public events related to the local environment (Spearman p<0.01, df=100, r2=0.127). Negative behaviors towards the environment, such as walking or anchoring on the reef, were not significantly correlated with increased knowledge of coral reefs (Spearman p=0.911, df=100, r2=-0.000025). A re-analysis with stricter scoring of correct answers did not change the overall results (Settar 2009).
People who SCUBA dive and snorkel are more knowledgeable about coral reefs, are more active outdoors, and participate in more positive stewardship activities compared to those that do not engage in these activities (Table 6). The mean coral reef knowledge score for SCUBA divers and snorkelers (taken as a group) was 6.6 points, which was significantly greater than the mean knowledge score of 6.1 points for the non- SCUBA/snorkelers (Mann-Whitney U=13588, p≤0.001). The SCUBA/ snorkeler group scored a mean of 5.1 points in outdoor activities, significantly greater than the mean 4.4 points scored by non-SCUBA/ snorkelers (Mann-Whitney U=5 071, p≤0.001). People in the SCUBA/snorkeler group engage in significantly more positive stewardship activities (mean=2.5 points) compared to those that do not SCUBA dive or snorkel (1.9 points) (Mann-Whitney U=12 100.5, p≤0.001); however, there is no difference between these two groups in terms of negative stewardship activities (both scored a mean of 1.6 points, Mann-Whitney U=2 595, p=0.381).


Discussion
---
Lessios H., D. Robertson & J. Cubit. 1984. Spread of Diadema mass mortality through the Caribbean. Science 226: 335-337. [ Links ]
Littlefair, C. & R. Buckley. 2008. Interpretation reduces ecological impacts of visitors to world heritage site. Ambio 37: 338-341. [ Links ]
Louv, R. 2006. Last Child in the Woods: Saving our Children from Nature-Deficit Disorder. Algonquin Books, Chapel Hill, North Carolina, USA. [ Links ]
Miller, R., A. Adams, N. Ogden, J. Ogden & J. Ebersole. 2003. Diadema antillarum 17 years after mass mortality: is recovery beginning on St. Croix? Coral Reefs 22: 181-187. [ Links ]
Oigman-Pszczol, S.S., A.E.S. Oliveira & J.C. Creed. 2007. Perceptions of coral in a coastal tourist town in Brazil. Coral Reefs 26: 667-670. [ Links ]
Panetta, L.E. 2003. America´s Living Oceans, Charting a Course for Sea Change: A Report to the Nation. Pew Oceans Commission, Arlington, Virginia, USA. [ Links ]
Pauly, D. 1995. Anecdotes and the shifting baseline syndrome of fisheries. Trends Ecol. Evol. 10: 430. [ Links ]
Pergams, O.R.W. & P.A. Zaradic. 2008. Evidence for a fundamental and pervasive shift away from naturebased recreation. Proc. Natl. Acad. Sci. USA 105: 2295-2300. [ Links ]
Ross, S.R., K.E. Lukas, E.V. Lonsdorf, T.S. Stoinski, B. Hare, R. Shumaker & J. Goodall. 2008. Inappropriate use and portrayal of chimpanzees. Science 319: 1487. [ Links ]
Schuman, H. & S. Presser. 1981. Questions and Answers in Attitude Surveys: Experiments on Question Form, Wording and Context. Academic, New York, USA. [ Links ]
Steel, B.S., C. Smith, L. Opsommer, S. Curiel & R. Warner- Steel. 2005. Public ocean literacy in the United States. Ocean Coast. Manag. 48: 97-114. [ Links ] |
Suman, D., M. Shivlani & J.W. Milon. 1999. Perceptions and attitudes regarding marine reserves: a comparison of stakeholder groups in the Florida Keys National Marine Sanctuary. Ocean Coast. Manag. 42: 019-040. [ Links ]
Weeks, P. & J.M. Packard. 1997. Acceptance of scientific management by natural resource dependent communities. Conserv. Biol. 11: 236-245. [ Links ]
Yates, F. 1971. Sampling Methods for Censuses and Surveys. Griffin & Company, London, England. [ Links ]
Young, E. 1999. Local people and conservation in Mexico´s El Vizcaino Biosphere Reserve. Geogr. Rev. 89: 364-390. [ Links ]
Correspondencia: Christine Settar & Teresa Turner. University of the Virgin Islands, Science and Math Department, 2 John Brewers Bay, St. Thomas, US Virgin Island 00802; chrismsettar@gmail.com, tturner@uvi.edu
---
Received 26-VII -2009. Corrected 05-II -2010. Accepted 12-VII -2010.