Services on Demand
Journal
Article
Indicators
Related links
Similars in SciELO
uBio
Share
---
On-line version ISSN 0034-7744Print version ISSN 0034-7744
Rev. biol. trop vol.54 n.4 San José Dec. 2006
Population structure and accompanying biota of the snail
Turbo (Callopoma) funiculosus
(Gastropoda: Turbinidae), on Socorro Island, Revillagigedo Archipelago, Mexico
Oscar E. Holguin Quiñones
1
& Jesús E. Michel-Morfín
2
1 Centro Interdisciplinario de Ciencias Marinas-IPN. A.P. 592, La Paz, B.C.S., CP 23096, México. Fax: (612) 122 53 22;
oholguin@ipn.mx
2 Departamento de Estudios para el desarrollo sustentable de zonas costeras. Universidad de Guadalajara. Gómez Farias 82, San Patricio-Melaque, Jal. C.P. 48980, México. Fax (315) 355-6331;
michel@costera.melaque.udg.mx
Received 10-VI-2002. Corrected 13-I-2004. Accepted 29-V-2006.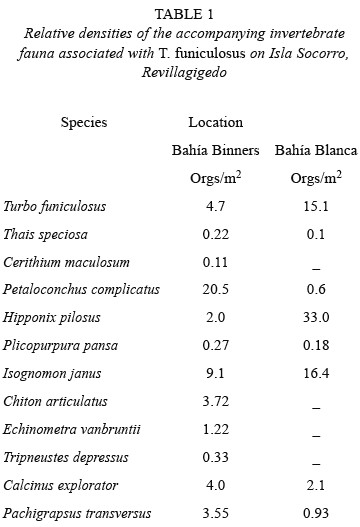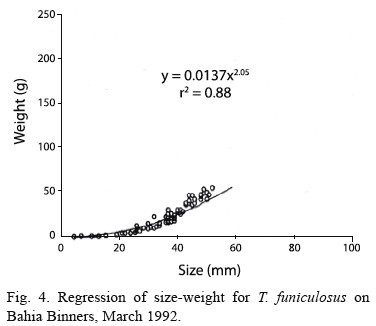 Discussion

As a result of the observation of the coastal strip of the superior midlittoral and the infralittoral parts of Socorro Island, the abundance of T. funiculosus was determined. The densities of some important species that occupy the same area were also determined. The turban shell is abundant on Socorro Island and has an elevated commercial value because of its meat and its shell. various accompanying species like P. pansa (Michel-Morfín et al. 2002) and C. articulatus (Holguin and Michel-Morfín 2002), have commercial value and represent potential resources on Socorro Island.

It is evident in the location of Bahía Binners that the sizes larger than 40 mm are less represented. On the contrary, in the samplings of Bahía Blanca they are predominant. This is due to the fact that the first location is very close and very accessible to an island village (naval sector), which in the year 1992, before an Everman volcano eruption, had an average population of 150 people. This caused the extraction for food consumption of the major sizes in the intertidal zone (this is possible to verify observing the shells left on the beach). On the other side, Bahía Blanca is very far from any populated zone and it is not accessible by land, which is why the population structure of the Turbo shell in this location remains unaltered.

Some parts of the island are inaccessible by land and barely accessible by sea. For that reason the population of this species remains unaltered by exploitation and its harvesting could be only possible under strict measures of protection and under an adequate management plan. However, new population studies are required in order to know some aspects about population dynamics, like growth, mortality, recruitment and reproduction, beside new population abundance estimations around all island rocky shores are important.

Acknowledgments
We are grateful to the Dirección de Estudios de Posgrado e Investigación del Instituto Politécnico Nacional and Consejo Nacional de Ciencia y Tecnología for funding this work. Thanks to the Comisión de Operación y Fomento de Actividades Académicas. Thanks to Silvia Mille P., Alicia Pérez and Ma. de Jesús Parra for their help with the field work, and Ma. Consuelo González and Bryan Keagle for the help on the English manuscript.

Resumen

El caracol porcelana, Turbo funiculosus, es un recurso pesquero potencial que casi no ha sido estudiado ni se ha utilizado comercialmente. En marzo de 1992, se realizó un muestreo de T. funiculosus en Bahía Binners y Bahía Blanca, isla Socorro, archipiélago Revillagigedo, empleando cuadrantes de 25 m2. Se encontraron variaciones en la longitud total entre 3.0 y 85 mm, el peso proporcional entre 3.0 y 228 g, y la densidad entre 6.21 y 9.87 ind/m2. Los organismos de mayor tamaño (más de 50 mm) contienen 30.6 % de partes suaves. Las poblaciones del caracol porcelana siguen siendo inexplotadas en el archipiélago Revillagedo y podrían ser un recurso potencial de la industria pesquera bajo un adecuado plan de manejo.

Palabras clave: Turbo funiculosus, molusco, densidad, peso, longitud, Isla Socorro.

Referencias
 All the contents of this journal, except where otherwise noted, is licensed under a Creative Commons Attribution License