Services on Demand
Journal
Article
Indicators
Related links
Similars in SciELO
uBio
Share
---
On-line version ISSN 0034-7744Print version ISSN 0034-7744
Rev. biol. trop vol.48 n.1 San José Mar. 2000
Reproduction, distribution and abundance of Bothus constellatus (Pisces:
Bothidae), in the Gulf of Tehuantepec, Mexico
M. Tapia-García, M. C. García-Abad and G. Cerdenares Ladrón de Guevara 1
Received 8-I-1999. Corrected 28-IX-1999. Accepted 15-X-1999.
Abstract
A total of 3 593 individuals of Bothus constellatus was captured during five oceanographic cruises carried out in the Gulf of Tehuantepec, Mexico. Its distribution, abundance, and reproduction patterns were stated by means of the analysis of the population parameters (i.e. density, biomass, weight and size average, visceral and gonadosomatic index, and maturity stages). B. constellatus is a typical demersal marine species, because it does not occur in estuaries, but occurs near to them on the continental shelf. It is distributed in the Gulf of Tehuantepec in depths lesser than 60 m, with high abundance around the 40 m isobath, and in front of Mar Muerto Lagoon. During January and May the biomass and density were high. The size at first maturity of females is 101 mm total length, and maturation occurs first in zones influenced by estuarine processes. Reproduction and recruitment were detected in all the collections.

Key words
Bothus constellatus, Chiapas, Oaxaca, demersal, fish ecology, fish reproduction, Gulf of Tehuantepec, Mexico.

At present, the understanding of the ecology of demersal tropical communities and the evaluation of their fishing potential is based upon the biological and ecological knowledge of the dominant species, in relation to their biology and ecology (Pauly 1982, Yáñez-Arancibia and Sánchez-Gil 1988). This is because the ecological strategies are closely adapted to the system dynamics. Then, the ecological success of dominant species is reflected in their great abundance and broad distribution, which determine the important ecological role that the dominant species have in the flow of matter and energy. In the Gulf of Tehuantepec, more than 170 fish species have been recorded (Tapia-García et al. 1994, Tapia-García 1998). Twenty of these are dominant, because they have broad distribution, great abundance and high frequency in the catches, and B. constellatus is one of these species (Tapia-García 1998). Therefore, its study and analysis are of great importance in the ecological understanding of the system dynamics.
B. constellatus is a demersal species distributed in the tropical and subtropical Eastern Pacific (Hensley 1995), and does not exist information about its biology and ecology. The studies more related to this species have been about new species of Bothus genus (Hensley 1997), and larvae (Yevseyenko 1976, Evseenko 1978). One study exists about reproductive behavior of B. ocellatus, B. lunatus and B. ellipticus (Konstantinou and Shen 1995).
The main objectives of this study were: to determinate the distribution and abundance of B. constellatus to define probable patterns of variation in space and time, and to characterize the reproduction, spawning and recruitment.

Material and Methods
The continental shelf of the Gulf of Tehuantepec is located in the southern Mexican Pacific, between the Huatulco Bays, Oaxaca, and the Suchiate River, Chiapas (Fig. 1). The collections were made during five oceanographic cruises in January, May and November of 1989, and March and August of 1990. The collections of January, May, November and August, were made with the "El Puma" vessel, and the collection of March with the "Don Nachito" boat. A total of 86 collections were made from 15 to 80 m of depth (Fig. 1), with commercial shrimp trawl nets (12 and 9 m mouth footrope, mesh size 4.45 cm) at an average of 3 knots during 30 minutes. The trawled area, fish catches and data were processed according to criteria discussed by Stevenson (1982), and Sánchez-Gil and Yáñez-Arancibia (1985).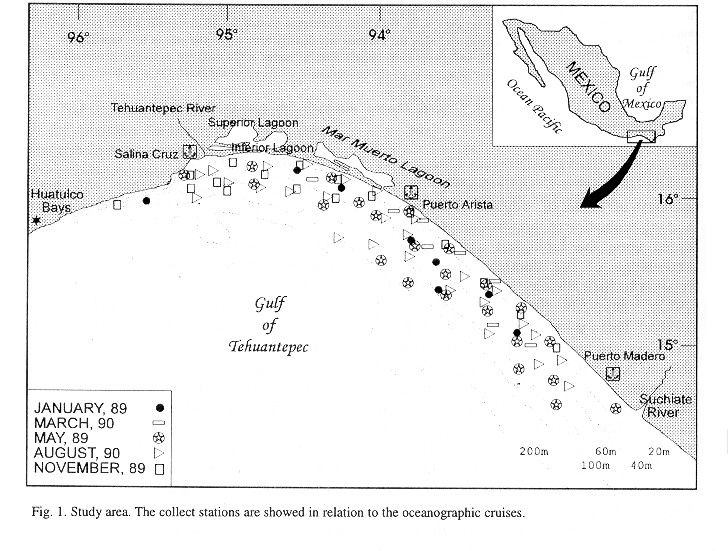 The individuals were measured total length (mm), weighed (g) (wet weight) with and without viscera, and sexed. The population parameters of density (individuals/m2) and biomass (g/m2) were determined per station and cruise; average length and average weight were determined per cruise; visceral and gonadosomatic index were determined per sex and cruise. Although the data correspond to different years, they were ordered in an annual period to assume the variations during a year.
Gonad maturity: It was determined according to the key presented by Laevastu (1971). Stage I = immature, sexually indeterminate individuals; II = immature, sexually determinate individuals; III = in maturing; IV = mature; V = reproduction; VI = spent; VII = resting.
Size at first maturity: It was determined as the midpoint between the length of the largest immature individual (II) and the length of the smallest maturing individual (III) (Tapia-García et al. 1995).
Gonadosomatic index (GSI): It was evaluated according to Cailliet et al. (1986):
GSI = B/W
where W is the wet weight of the fish, and B is the wet weight of both gonads.
Visceral index (VI): It was evaluated with the next equation:
VI = V/W
where W is the weight of the fish, and V is the weight of the viscera.

Total abundance and lengths of B. constellatus by oceanographic cruise.
Cruise

Number

(ind.)

Wet Weight

(g)

Total Length

(mm)




January, 1989

209

6 728.1

64-157

March, 1990

3 171

57 892.5

61-149

May, 1989

247

4 504.2

51-155

August, 1990

291

4 974.6

69-147

November, 1989

310

5 341.7

62-150

TOTAL CATCH

4 228

79 441.1

51-157
Results
Distribution and abundance: A total of 4 228 individuals of B. constellatus were captured, with a total weight of 79 441.1 g, and a size range of 51 to 157 mm total length (Table 1). This species was widely distributed in depths lesser than 60 m on sand and sandy-muddy sediments. Greatest density (0.0012 to 0.0068 ind./m2), and biomass (0.0293 to 0907 g/m2) occurred around the 40 m isobath in the northern Gulf, mainly in front of Mar Muerto Lagoon during January, March and November (Figs. 2a, 2b). The monthly density pattern showed a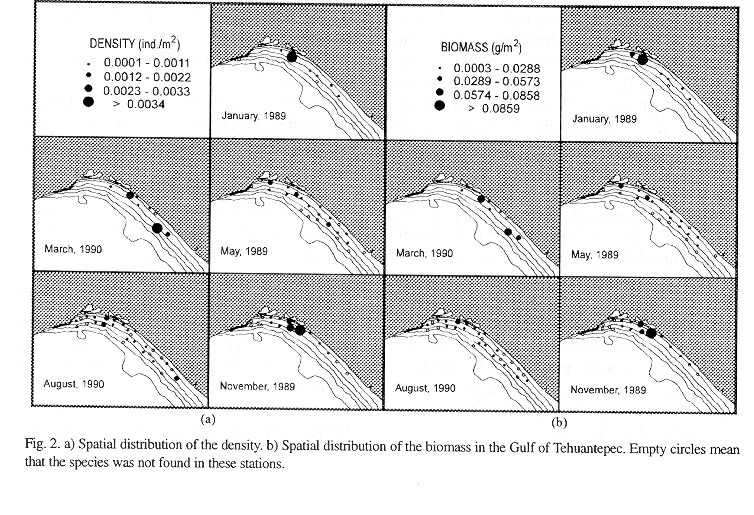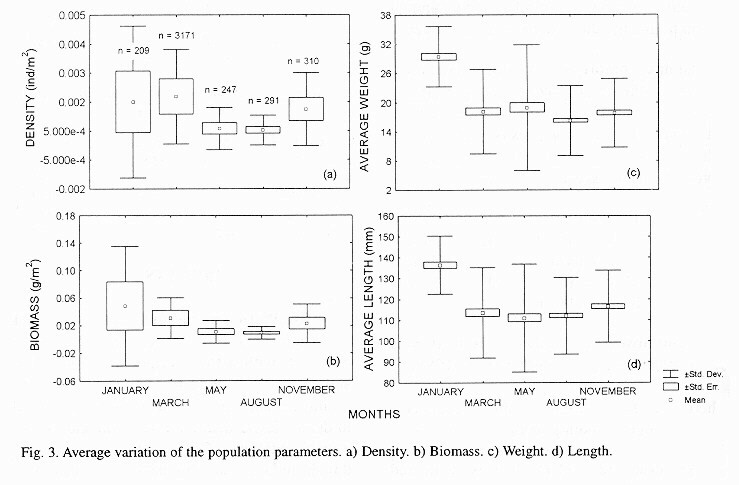 high concentration of individuals during January and March (x = 0.0015 and 0.0017 ind./m2 respectively), while the minimum value was during August (x =0.0005 ind./m2) (standard deviation and "n" are showed in the fig. 3). The biomass pattern was similar to the density with the highest biomass during January (

=0.048 g/m2), and the lowest during August (

=0.009 g/m2) (Fig. 3b). During January a high number of individuals with the highest weight (

=29.5 g) and length (

=136 mm) were observed, while during the other months these parameters decreased. The individuals with the lowest weight and size where in May (Figs. 3c, 3d). The analysis of the spatial length distribution indicates that the largest individuals were in front of the main estuarine systems of the zone, and the smallest individuals occurred towards the southeastern of the Gulf. The length frequencies were multimodal, except in January (Fig. 4), these were according with the great variation of the weight and length of the individuals during March, May, August and November (Figs. 3c, 3d).
Reproductive biology: In the collections the female: male ratio was near to 1:1, and only the sexually indeterminate individuals (juveniles) were a small fraction (<5%) (Fig. 5). The individuals had a spatial tendency to distribute by sexes.
The gonadosomatic index pattern was similar in both sexes. A maximum average was observed in January (0.029 and 0.004, females and males respectively), and the lowest average values were in March and August (Figs. 6a, 6b).
The visceral index pattern was also similar in both sexes, with the maximum average in May and November, and the minimum averages in January and August (Figs. 6c, 6d). For the females the maximum variations were between May and August, and the minimum variations were between January and March. For the males, the maximum variation was in May and the minimum in January.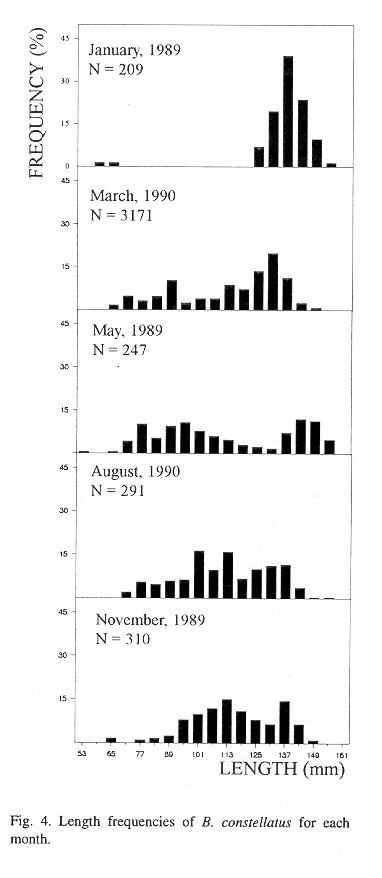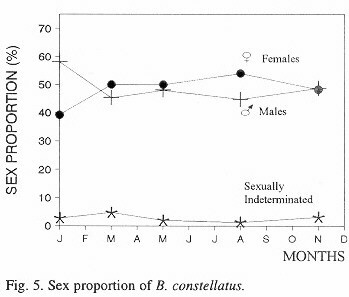 Maturity stages analysis showed in January one evident group of adult organisms in a maturing process, and some young individuals that have not yet engaged in reproduction. During the other months all maturity stages were observed (Fig. 7).
The size at first maturity of B. constellatus is 101 mm because the largest immature individual (II) was 122 mm of total length (November) and the smallest in maturing (III) was 80 mm (May) (Fig. 7). An analysis of spatial distribution of maturity stages of individuals showed that mature individuals were mainly in front of the Mar Muerto Lagoon.

Discussion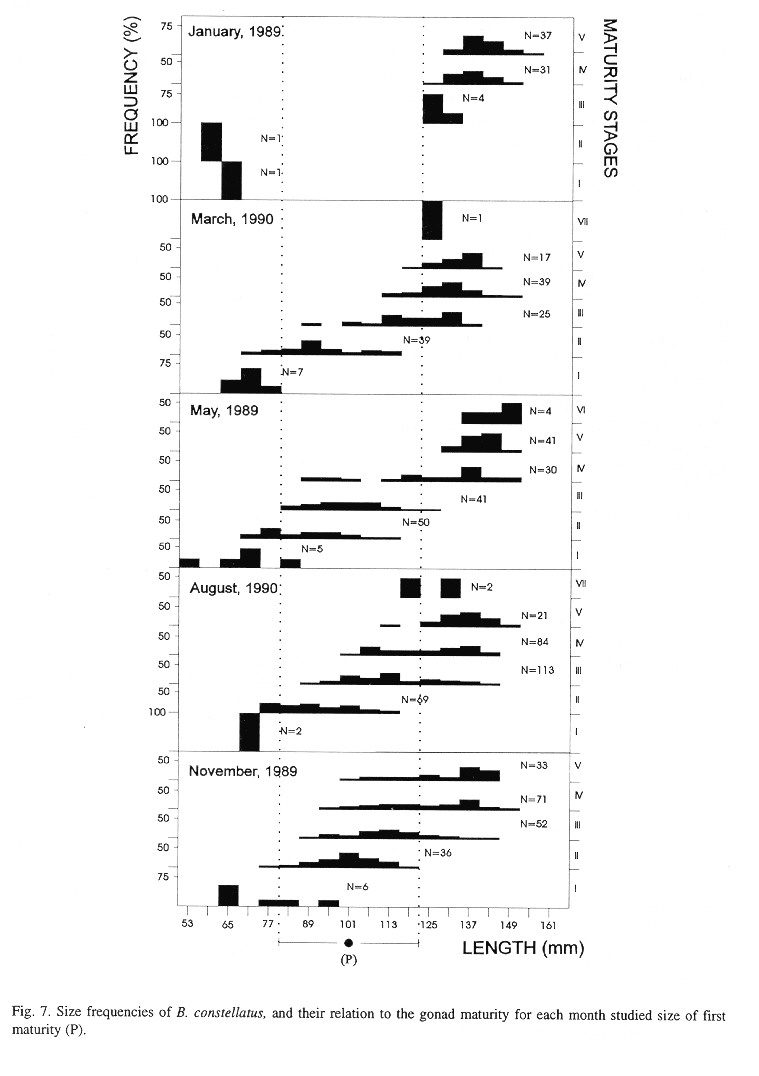 The constant presence of sexually indeterminate fish (I), immature (II), in maturing (III), mature (IV), and in reproduction (V), suggests that the reproduction occur throughout the year. The analysis of the gonadosomatic index in females and males shows two peaks in January and May. This would indicate high spawning during these months. Although in May also there were individuals with low gonadosomatic and visceral index, the presence of two groups was evident. This behavior is characteristic of tropical fish, which show a constant recruitment of juveniles, short cycles of life, and reproduction during all the year. B. constellatus probably lives around a year, because it shows patterns of distribution and reproduction like other bothids. S. gunteri is reported with a cycle of life around one year (García-Abad et al. 1992, Sánchez-Gil et al. 1994) and S. ovale also presents fast growth (Barba-Torres 1990).
The size at first maturity was 101 mm TL. Other species of bothids have a size at first maturity similar to B. constellatus, as S. papillosum (101 mm) and S. gunteri (106 mm) in the Gulf of Mexico, and S. ovale (95 mm) in the Mexican Central Pacific (Toop y Hoof 1972, Barba-Torres 1990, García-Abad et al. 1992). The individuals distributed in front of Mar Muerto Lagoon, matured first. This suggests the importance of estuaries on the fish, because these zones are highly productive and therefore guarantee a food source for the fish, as a nursery habitat.

Acknowledgements
The "Consejo Nacional de Ciencia y Tecnología" and the "Universidad Autónoma Metropolitana-Iztapalapa" supported this research.

References
Amezcua-Linares, F. 1996. Peces demersales de la plataforma continental del Pacífico central de México. Inst. Cienc. del Mar y Limnol. UNAM, Comisión Nacional para el conocimiento y uso de la biodiversidad. México, D.F. 184 p. [ Links ]
Barba-Torres, J. F. 1990. Taxonomía, biología y ecología del lenguado Syacium ovale (Günter) en áreas del Pacífico mexicano 1982-1983 (Teleostei: Bothidae). Tesis de Maestría, Fac. de Ciencias, UNAM, México, D.F. [ Links ]
Cailliet, G. M., M. S. Love & A.W. Ebeling. 1986. Fishes. A field and laboratory manual on their structure, identification, and natural history. Wadsworth Publishing Company, Belmont, California. 194 p. [ Links ]
Carranza-Edwards, A., L. Rosales Hoz, E. Ruíz Ramírez & S. Santiago Pérez, 1989. Investigations of phosphorite deposits in the Gulf of Tehuantepec, Mexico. Marine Minning 8: 317-323. [ Links ]
Evseenko, S. A. 1978. Some data on the metamorphosis of the genus Bothus larvae (Pisces, Bothidae) from the Caribbean Sea. Zool. Zh 57(7): 1040-1047. [ Links ]
Gallegos García, A. & J. Barberán Falcón. 1998. Surgencia Eólica, p. 27-34. In: M. Tapia-García (ed.). El Golfo de Tehuantepec: el ecosistema y sus recursos. Universidad Autónoma Metropolitana-Iztapalapa, México, D. F. [ Links ]
García-Abad, M. C., A. Yáñez-Arancibia, P. Sánchez-Gil & M. Tapia-García. 1992. Distribución, reproducción y alimentación de Syacium gunteri Ginsburg (Pisces: Bothidae), en el Golfo de México. Rev. Biol. Trop. 39: 27-34. [ Links ]
Hensley, D. A. 1995. Bothidae, p. 931-936. In: W. Fischer, F. Krupp, W. Schneider, C. Sommer, K. E. Carpenter & V. H. Niem (eds.). Guía FAO para la identificación de especies para los fines de la pesca. Pacífico centro-oriental. Volumen II. Vertebrados- Parte 1. Roma, FAO. [ Links ]
Hensley, D. A. 1997. A new species of Bothus (Pleuronectiformes: Bothidae) from Mozambique. Spec. Publ. J. B. L. Smith Inst. Ichthyol. Grahamstown. No. 58, 8 p. [ Links ]
Konstantinou, H. & D. C. Shen. 1995. The social and reproductive behavior of the eye flounder, Bothus ocellatus, with notes on the spawning of Bothus lunatus and Bothus ellipticus. Environ. Biol. Fish. 44(2): 311-324. [ Links ]
Leavastu, T. 1971. Manual de métodos de Biología Pesquera. Publicación FAO. Ed. Acribia, Zaragoza. 243p. [ Links ]
Monreal Gómez, M. A. & D. A. Salas de León.. 1998. Dinámica y estructura termohalina, p. 13-26. In: M. Tapia-García (ed.). El Golfo de Tehuantepec: el ecosistema y sus recursos. Universidad Autónoma Metropolitana-Iztapalapa, México, D. F. [ Links ]
Pauly, D. 1982. Studying single-species dynamics in a tropical multispecies context, p. 33-70. In: D. Pauly & G. I. Murphy (eds.). Theory and management of tropical fisheries. ICLARM Conference Proceeding 9, Manila, Philippines. [ Links ]
Sánchez-Gil, P. & A. Yáñez-Arancibia. 1985. Evaluación ecológica de recursos demersales costeros tropicales: un enfoque metodológico en el sur del Golfo de México, p. 275-314. In: A. Yáñez-Arancibia (ed.). Recursos pesqueros potenciales de México: La pesca acompañante del camarón. Progr. Univ. de Alimentos. Inst. Cienc. del Mar y Limnol., Inst. Nal. de Pesca. UNAM, México, D. F. [ Links ]
Sánchez-Gil, P., F. Arreguín-Sánchez & M. C. García-Abad. 1994. Ecological strategies and recruitment of Syacium gunteri (Pisces: Bothidae) in the southern Gulf of Mexico shelf. Netherlands Journal of Sea Research 32(3/4): 433-439. [ Links ]
Stevenson, D. K. 1982. Una revisión de los recursos marinos de la región de la Comisión de Pesca para el Atlántico centro occidental (COPACO). FAO Doc. Tec. de Pesca 211: 1-146 [ Links ]
Tapia-García, M. 1998. Evaluación ecológica de la fauna demersal, p 129-148. In: M. Tapia-García (ed.). El Golfo de Tehuantepec: el ecosistema y sus recursos. Universidad Autónoma Metropolitana-Iztapalapa, México, D. F. [ Links ]
Tapia-García, M., M. C. García-Abad, G. González Medina, M. C. Macuitl Montes & G. Cerdenares Ladrón de Guevara. 1994. Composición distribución y abundancia de la comunidad de peces demersales del Golfo de Tehuantepec. Trop. Ecol. 35: 229-252. [ Links ]
Tapia-García, M., A. Yáñez-Arancibia, P. Sánchez-Gil & M. C. García-Abad. 1995. Distribución, abundancia y reproducción de Priacanthus arenatus Cuvier (Pisces: Priacanthidae), en la plataforma continental del sur del Golfo de México. Biotropica 27(2): 232-237. [ Links ]
Toop, R. W. & F. H. Hoff, Jr. 1972. Flatfishes (Pleuronectiformes). Fla. Dept. Nat. Res. Mem. Hourglass Cruises 4: 1-135. [ Links ]
Yáñez-Arancibia, A. & P. Sánchez-Gil. 1988. Ecología de los recursos demersales marinos: fundamentos en costas tropicales. AGT Editor, S. A. México, D.F. 228p. [ Links ]
Yevseyenko, S. A. 1976. Larvae of Bothus ocellatus from the north-western Atlantic. J. Ichthyol. 16(4): 568-605. [ Links ]
1 Departamento de Hidrobiología, D. C. B. S. Universidad Autónoma Metropolitana-Iztapalapa Apartado Postal 55-535, México 09340, D. F. Fax 57244738;mtg@xanum.uam.mx