Services on Demand
Article
Indicators
Related links
Similars in SciELO
uBio
Share
---
On-line version ISSN 0034-7744
Rev. biol. trop vol.47 n.3 San José Sep. 1999
Cystine nephrolithiasis in an endangered canid,
Chrysocyon brachyurus (Carnivora: Canidae)
Norma B. Mussart and José A. Coppo 1
Recibido 7-VII-1998. Corregido 7-XII-1998. Aceptado 16-XII-1998.
Resumen
Se halló cálculos de cistina en la pelvis renal de un ejemplar adulto de Chrysocyon brachyurus (aguará-guazú), cuya muerte había ocurrido en el zoológico de Sáenz Peña (Chaco). El diagnóstico fue realizado por el método colorimétrico del nitroprusiato. La presencia de cristales microscópicos hexagonales en el cálculo pulverizado confirmó la presunción de cistina. La cistinuria es una aminoaciduria hereditaria que a largo plazo produce nefrolitiasis. El aguará-guazú puede padecer esta metabolopatía, por lo que durante su cautiverio la orina de este animal debería ser investigada para detectar la presencia de cristales de cistina; un tratamiento oportuno puede salvarle la vida. En Argentina, el número de C. brachyurus no superaría los 1000 ejemplares, en peligro de extinción.

Key words
Chrysocyon brachyurus, cystinuria, nephrolithiasis, prevention.

Chrysocyon brachyurus Illiger 1811 (maned wolf, aguará-guazú) is a carnivorous mammalian of the Canidae family, which inhabits in the east of Bolivia, south and center of Brazil and Paraguay, as well in the north-east of Argentine. A long brown-reddish fur (mane) is its principal characteristic. It reaches a weight of 25 kg and its length is approximately 1.40 m. With a longevity of 16 years, it is a swift runner of lone and nocturnal customs. Little animals, eggs and fruits are their main food. In our country its number could be no more than 1000 specimens, in extinction risk (Chebez 1994).
In addition to its habitat reduction, maned wolf was indiscriminatelly hunted to be saled in hundreds to zoological parks from South-America, the United States of America, and Europe, where its captive breeding is difficult (Beccaceci 1990).
We report the finding of six cystine calculi incrusted in the renal pelvis of an adult C. brachryurus whose death at the zoological park in Sáenz Peña (Chaco Province, Argentine), was preceded by respiratory problems. Probable urinary obstruction, azoic retention and metabolic acidosis are not discarded; its compensation (pulmonary hyperventilation) could explain the unique premortal sign (Medway et al. 1980).
The stones were brown-yellowish, irregular in shape, with coralline surface and waxen consistency, diameters up to 2 cm. Laboratory tests (Biopur kits) indicated cystine presence (magenta coloration to the nitroprussiate trial) in both peripheral and nuclear calculus zones (Pesce & Kaplan 1990).
The ammonia dissolving of the pulverized stone revealed microscopic hexagonal colorless crystals (Fig. 1), confirming the cystine presumption (Graff 1987). This amino acid normally does not exist in urine (Hutter 1995). Uric acid traces were also revealed, but phosphate, oxalate, ammonium, calcium, and magnesium tests resulted negatives.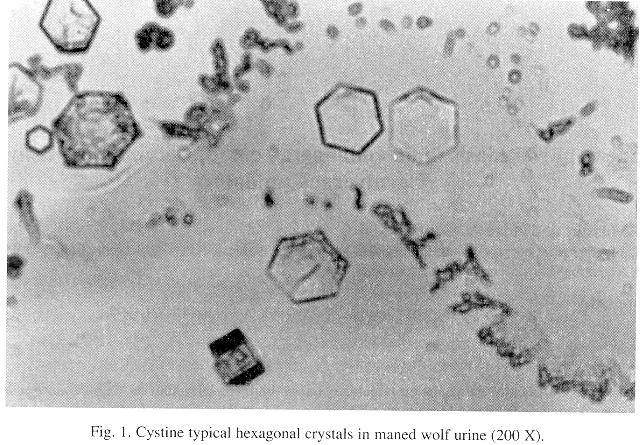 Cystine nephrolithiasis is the consequence of a previous metabolic failure in the certain amino acids renal resorption (cystine, arginine, lysine and ornithine). Cystinuria is a hereditary amino-aciduria (autosomal recessive transmission) characterized by the cystine tubular resorption absence. Cystine, the most insoluble of the amino acids, precipitates in acid urine and forms calculus (Smith & Thier 1983).
In a previous publication we reported a cystine urolithiasis frequency of 3% in domestic canines (Coppo 1991). Other authors reported rate of 18% in dogs (Medway et al. 1980). Human prevalence is 1% (Smith & Thier 1983).
Surprisingly, a cystinuria prevalence of 80% was reported in captive maned wolves, which also can suffer another renal disease caused by the worm Dioctophyma renale (Beccaceci 1990, Chebez 1994).
To improve the health care of this carnivore, cystine crystals in urine should be monitored. The urinary sediment exam is also useful to detect Dioctophyma renale eggs (Medway et al. 1980). Preventive steps such as urinary alkalinization (bicarbonate) and/or D-penicillamine ingeston (cystine solubilization) can avoid this dangerous nephrolithiasis (Hutter 1995).
Efforts must be carried out to save this species from extinction: the maned wolf is the largest, and to some, the most beautiful South-american carnivores (Chebez 1994).
I thank Lucrecia Felquer (CONICET) for the English revision.

References
Beccaceci, M. 1990. First finding in Argentina of the parasite Dioctophyma renale (Goeze 1872) in a maned wolf (Chrysocyon brachyurus) in the wild. IUCN/SSC Vet. Group Newsletter 5: 8-10. [ Links ]
Chebez, J.C. 1994. Los que se van. Especies argentinas en peligro. Albatros, Buenos Aires. 604p. [ Links ]
Coppo, J.A. 1991. Häufigkeit der urolithiasis bei haustieren im nordosten argentiniens. Vet. Med. Nachricht. 61: 24-29. [ Links ]
Graff, S.L. 1987. Análisis de orina. Panamericana, Buenos Aires. 222p. [ Links ]
Hutter, E.R. 1995. Enfermedades de los riñones y vías urinarias en caninos y felinos. Graffo's, Buenos Aires. 239p. [ Links ]
Medway, W., J.E. Prier, & J.S. Wilkinson. 1980. Veterinary Clinical Pathology. Williams & Wilkins, Baltimore. 532p. [ Links ]
Pesce, A.J., & L.A. Kaplan. 1990. Methods in Clinical Chemistry. Mosby. New York. 1380p. [ Links ]
Smith, L.H., & S.O. Thier. 1983. Pathophysiology. The Biological Principles of Disease. Saunders, Philadelphia. 1509p. [ Links ]
1 Cát. Fisiología, Fac. Ciencias Exactas, Universidad Nacional del Nordeste (UNNE), Sargento Cabral 2139, Corrientes (3400), Argentina. E-mail jcoppo@vet.unne.edu.ar.