Services on Demand
Journal
Article
Indicators
Related links
Similars in SciELO
uBio
Share
---
On-line version ISSN 0034-7744Print version ISSN 0034-7744
Rev. biol. trop vol.46 n.4 San José Dec. 1998
Lectins of Erythrina poeppigianaand Erythrina steyermarkii
(Leguminosae) : characterization and mitogenic effect
Silvia Quesada
1
Clara I. Nanne
1
Luis González
2
Received 24-III-1998. Corrected 22-IX-1998. Accepted 5-X-1998.
Abstract
Erythrina species are widely distributed in Costa Rica and known popularly as "poró". In this study, two species were selected, Erythrina poeppigiana and Erythrina steyermarkii. Seed extracts were prepared in phosphate-buffered saline. The presence of lectins in the extracts was verified by hemagglutinating effect over suspensions of human erythrocytes. A selective hemagglutinating effect on erythrocytes of several mammal species, goat, horse and rabbit red cells was tested; only the latter were agglutinated by E. steyermarkii. The hemagglutinating effect of both lectins was inhibited with the following carbohydrates: D-galactose, N-acetyl galactosamine, D-lactose and D-raffinose. The lectin from E. steyermarkii was also inhibited with L-rhamnose. Both lectins were isolated with gel filtration and affinity chromatography using lactose as ligand. Fractions that proved positive were tested with the sodium dodecyl sulfate polyacrylamide gel electrophoresis (SDS-PAGE). Gel filtration and SDS-PAGE showed that these lectins have an apparent molecular mass of 50kDa, and are formed by two subunits of approximately 25 kDa. E. poeppigiana had no mitogenic effect, but the extract of E. steyermarkii had a mitogenic effect on human mononuclear cells isolated from peripheral blood. The stability of the lectins was tested at different temperature and pH ranges (4 to 100 °C) and at pH 2 to 12. Both were stable at a pH range from 2 to 10, and at temperatures from 40 to 70 °C.

Key words
Erythrina, leguminosae, poró, lectins, mitogen.

Lectins are simple proteins or glycoproteins present in numerous plants, animal tissues and microorganisms that specifically bind to carbohydrates and have the capacity to agglutinate certain types of cells (Barondes 1981, Quiocho 1986). Despite their poorly understood biological functions, it has been suggested that they are involved in the symbiosis of nitrogen fixing microorganisms and legumes, and in the defense of plants against fungi and insects (Adar and Sharon 1996). The ability of lectins to recognize specific carbohydrates makes them valuable tools for taxonomic studies and for the isolation and purification of glycoconjugates (Van Leuven et al. 1993).
Lectins extracted from plants may function as lymphocyte polyclonal mitogens, by binding to glycoconjugates on the cell surface and activating a series of events that result in cellular activation and proliferation (Sansford and Harris-Hooker 1990, Maennel et al. 1991). Some lectins, as Phytohaemagglutinin (PHA) extracted from Phaseolus vulgaris and Concanavalin A (Con A) from Canavalia ensiformis, are commercially available mitogens. However, the binding of lectins to the surface of lymphocytes does not necessarily induce cellular activation. Lectins have been used to demonstrate structural and functional differences in membrane composition between normal and tumoral cells (Slesak et al. 1989, Figols et al. 1991, Slupsky et al. 1993).
The biological importance of lectins has increased due to their potential for the purification, selection and cloning of subpopulations of cells involved in normal or pathological immune response (Cunnick et al. 1990, Tietz et al. 1991).
In this investigation, the lectins from the seeds of Erythrina steyermarkii and Erythrina poeppigiana were isolated, biochemically characterized, and screened for mitogenic activity on mononuclear leukocytes.

Materials and Methods
Preparation of the crude extracts: The seeds extracts of Erythrina steyermarkii and E. poeppigiana were obtained as described in a previous work (Nanne-Echandi and Aragón-Ortiz 1991) with slight modifications. Briefly, 80 g of the seeds were homogenized with 500 mL of 0.15 M NaCl containing 3mM KCl, 0.05M sodium phosphate buffer, pH 7.2 (PBS), and centrifuged at 10000 g for 30 min at 4°C. The proteins in the supernatant were precipated with an equal volume of acetone and centrifuged at 10000 g for 10 min at 4 °C. The pellet was dissolved in PBS and lyophilized. The protein concentration of the extracts was determined according to Bradford (1976).
Hemagglutinating activity: Goat, horse, rabbit and human [A, B, O, (Rh0 (D)+, (Rh0 (D)-] erythrocytes were washed three times with NaCl 0.9 % at 3000 g for 5 min and resuspended at a 5% (v/v) concentration in the same solution.
The hemagglutinating activity was assayed in 96-well microtiter plates (U-shaped), using 100 µL of extract solution (5 mg protein/mL), and adding 50 µL of erythrocyte suspension to each well. The agglutination was screened visually after one hour of incubation at room temperature.
In order to determine the carbohydrate recognized by the lectin, 50 µL of a carbohydrate solution (0.1M) was added to 50 µL of the crude extract (5 mg of protein/mL) and incubated one hour at room temperature. Immediately, 50µL of a suspension of human erythrocytes (A, Rh0 (D)+) was added to each well, and incubated again for one hour at room temperature. The inhibitory effect of the carbohydrates on the agglutination was determined by titration using double serial dilutions.
Temperature stability: One mL of each of the seed extracts (5mg/mL of protein) was incubated for 10 minutes at different temperatures (4-100°C), and immediately placed in an ice bath. These extracts were then centrifuged at 3000 g for 5 minutes. The hemagglutinating activity of the supernatants was determined as described previously, using human group A, Rh0 (D)+ erythrocytes.
pH stability: The extracts were dissolved in saline phosphate buffers of different pH values (2-12), adjusted to obtain a protein concentration of 5 mg/mL, and incubated for one hour at room temperature. The pH was readjusted to 7.0 with 0.1M NaOH or with 0.1M HCl. The precipitate was eliminated by centrifugation (3000 g, 5 min) and the agglutinating activity of the supernatant was then assayed with human group A, Rh0 (D)+ erythrocytes.
Isolation of the lectins: The crude extracts of the lectins were adjusted to a protein concentration of 30 mg/mL in PBS and were run through a Sephadex G-100 column (2.5 cm x 100 cm), at a flow rate of 20 mL/hour. Fractions of three mL were collected, screened at 280 nm, and their agglutinating activity determined with human group A, Rh0 (D)+ erythrocytes. Fractions showing positive results were passed several times at 4 °C through a Lactose-Agarose column (Sigma, USA). After washing the column extensively with PBS, the bound material was eluted with 100 mL of 2M D-lactose in PBS. The eluate was dialyzed 48 hours at 4 °C against PBS, and concentrated through a stirred cell filter with a 30 kDa pore membrane.
Mitogenic activity: Human peripheral blood mononuclear cells were separated from venous blood of healthy adult volunteers by density gradient centrifugation on Ficoll (Bøyum 1971). Cell cultures were performed as previously described (González et al. 1992). Briefly, the mononuclear cells were cultured at a density of 1 x 105 cells/well in RPMI medium (Sigma, USA) with 10% fetal calf serum (FCS) in the presence of serial dilutions of the lectin fraction obtained from the gel filtration. PHA (6.5 µg/mL) and medium alone were used as controls. The cultures were incubated at 37°C for 48 hours in an atmosphere containing 5% CO2, followed by a 24 hour pulse with 1µg 3H-thymidine/well. The cells were harvested on filter paper discs and the thymidine incorporation was assessed using a beta counter. All samples were run in triplicate.

Results
The seed extracts obtained from E. steyermarkii and E. poeppigiana aglutinate all types of human erythrocytes of the ABO and Rh0 (D) positive and negative systems. Differences were found when erythrocytes from other mammalian species were tested with the extracts. The E. steyermarkii seed extract did agglutinate rabbit erythrocytes, but not goat or horse erythrocytes, and the E. poeppigiana seed extract did not agglutinate any of these types of erythrocytes (Table 1).
TABLE 1
Agglutinating activity of the lectins from E. steyermarkii and E. poeppigiana
with different erythrocytes types.
Human

erythrocytes

Animal

erythrocytes

Extract

A

B

O

Rabbit

Goat

Horse

Erythrina steyermarkii

+

+

+

+

-

-

Erythrina poeppigiana

+

+

+

-

-

-
+ Haemagglutination
- No haemagglutination
Working with human A, Rh0 (D)+ erythrocytes that were randomly selected since all types of human red cells were agglutinated by the lectin extracts, the inhibition of the agglutinating effect of the seed extracts was experimentally tested against D-galactose, D-lactose, D-N-acetyl galactosamine, L-rhamnose and other carbohydrates. The titers of the inhibition of haemagglutination tests using D-galactose, D-lactose, D-N-acetyl galactosamine and raffinose, against the lectin extracts of both Erythrina species, are shown in Table 2. D-galactose, D-lactose, D-raffinose and D-N-acetyl galactosamine inhibit the agglutination of the human erythrocytes on both seed extracts (Table 2). In the particular case of Erythrina steyermarkii extract, agglutination of human erythrocytes was inhibited by D-raffinose. This carbohydrate had no inhibitory effect when tested with rabbit red cells (Table 3).
The results of the mitogenic effect of both extracts against mononuclear cells isolated from peripheral blood of two healthy human donors are presented in Figure 1.
E. steyermarkii extract showed mitogenic effect on these cells, whereas E. poeppigiana extract did not have any effect on mononuclear cells.
The effect of temperature on the capacity of haemagglutination of both extracts was investigated. The extracts were heated at different temperatures, ranging from 40 to 90°C for ten minute intervals. It was found that the hemagglutinating capacity was stable between 40 and 70°C, and was lost completely at 80°C.
Regarding pH, the activity of both extracts remained constant at pH 2 to 10, and was lost at pH 11.
Fractionation of crude extracts was performed by gel filtration on Sephadex G-100 column. In E. poeppigiana extract four fractions were observed whereas five fractions were separated in the extract of E. steyermarkii. In both extracts, the hemagglutinating activity was located in the second fraction (Fig 2). Further purification of the lectins was achieved by collecting the hemagglutinating fractions, concentrating and passing them through an affinity chromatography column with agarose-lactose.
The molecular weight of the hemagglutinating fractions, determined by gel filtration in Sephadex G-100 was estimated as 50 kDa (Fig 3). By polyacrylamide gel electrophoresis (SDS-PAGE), under reducing conditions, the hemagglutinating fraction of both lectins obtained by affinity chromatography have a molecular weight close to 25 kDa. These findings suggest that each lectin is formed by two subunits of similar molecular weight.
TABLE 2
Titer of the inhibitory activity of the carbohydrates on the haemagglutination of human erythrocytes (A Rh+)with the lectins of E. poeppigiana and E. steyermarkii.
| | | | | | | | |
| --- | --- | --- | --- | --- | --- | --- | --- |
| E. POEPPIGIANA | 1.1 | 1:2 | 1.4 | 1:8 | 1:16 | 1:32 | 1:64 |
| Galactose | + | + | + | + | - | - | - |
| Lactose | + | + | + | + | + | - | - |
| | | | | | | | |
| N-Acety | + | + | + | + | + | - | - |
| Galactosamine | | | | | | | |
| Raffinose | + | + | + | + | - | - | - |
| | | | | | | | |
| E. teyemarkii | | | | | | | |
| Galactose | + | + | + | + | - | - | - |
| Lactose | + | + | + | + | + | + | - |
| N-Acety1 | + | + | + | + | + | - | - |
| Galactosamine | | | | | | | |
| Raffinose | + | + | + | + | - | - | - |
| | | | | | | | |
| Rhamnose* | + | + | - | - | - | - | - |
* hemagglutinating inhibition with rabbit erythrocytes.
TABLE 3
Inhibitory activity of carbohydrates (0.1 M) on the haemagglutination of
human erythrocytes (A Rh+) and rabbit erythrocytes by the lectin of E. steyermarkii.
| | | |
| --- | --- | --- |
| Carbohydrate | A+ | Rabbit |
| | | |
| D-Lactose | + | + |
| D-N-Ac Galactosamine | + | + |
| D-Galactose | + | + |
| L-Rhamnose | - | + |
| D-Raffinose | + | - |
| D-N-Ac Glucosamine | - | - |
| Sorbose | - | - |
| D-Glucose | - | - |
| Inositol | - | - |
| D-N-Ac Mannosamine | - | - |
| Trehalose | - | - |
| D-Mannose | - | - |
| D-Saccharose | - | - |
| Sorbitol | - | - |
| D-Xylose | - | - |
+ Inhibitory activity
- No inhibitory activity
Discussion
The extracts of E. poeppigiana and E. steyermarkii agglutinated all types of human erythrocytes tested. These findings agree with those of Allen and Brillantine (1969), who found that the vast majority of lectins agglutinate in a non specific way all types of human red cells.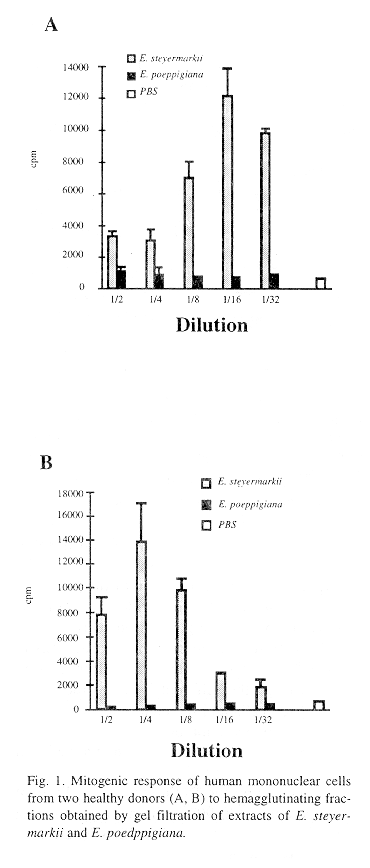 Horse and goat red cells were not agglutinated by the lectin extracts of both species studied. In the particular case of the extract of E. steyermarkii, agglutination was observed with rabbit red cells. These observations suggest that this lectin is similar to the one isolated from E. edulis by Pérez (1984). This lectin agglutinated rabbit red cells, but had no effect on horse or goat erythrocytes.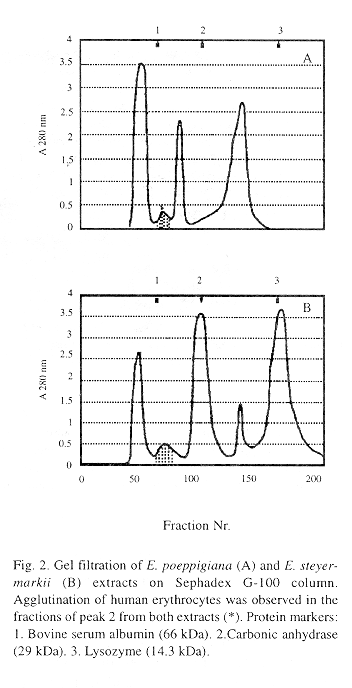 The mitogenic effect of both lectins was evaluated with mononuclear cells isolated from the blood of two healthy donors. Results varied in each case. With donor A the mitogenic effect increased with higher dilution. This could be explained by assuming that interfering substances present in the extract partially inhibited cell proliferation. This effect was lost at higher dilutions. On donor B not such effect was observed, and the mitogenic effect was more intense at lower dilutions (1/4 and 1/8). Nevertheless, it was evident that only the extract of E. steyermarkii has mitogenic effect. In a previous investigation by Lis et al. (1985) it was found that among a group of lectins investigated, six of them agglutinated rabbit red cells and had mitogenic on lymphocytes isolated from peripheral human blood, whereas three weakly agglutinated rabbit erythrocytes and two of them displayed a poor mitogenic effect.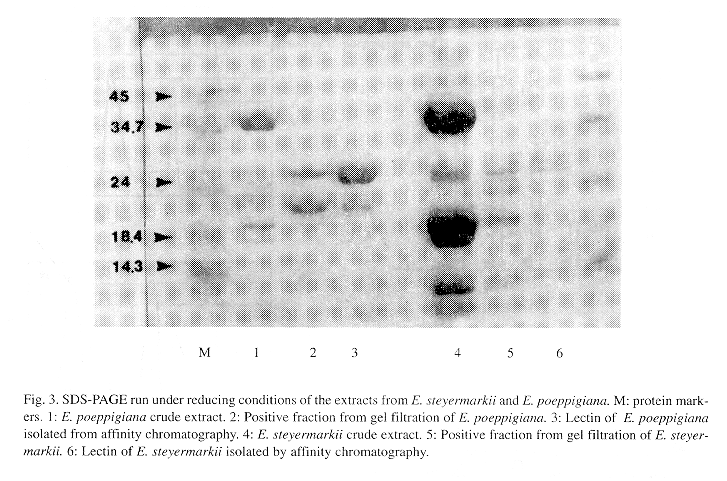 D-galactose, D-N-acetygalactosamine and D-lactose inhibited the agglutinating activity of both extracts in human red blood cells. Of these carbohydrates, D-lactose was the most potent, inhibiting at a minimum concentration of 3.1 mM. All of the Erythrina extracts that have been studied in the past by various authors, show the same pattern of inhibition with these carbohydrates (Bhattacharyya et al. 1981, Lis and Sharon 1985, Nanne and Aragón 1991).
The inhibitory activity of raffinose of haemagglutination by both extracts can be explained by the recognition of the galactose moiety of this trisaccharide. L-rhamnose only inhibits the agglutination of rabbit red cells with the E. steyermarkii extract. Lis et al. (1985) proposed that the differences in behavior of the different lectin extracts with rabbit red cells and mononuclear human cells is caused by variation in or close the combination site of the carbohydrate to the red cell membrane.
Incubating the lectin extracts at different temperatures (40-90°C) the hemagglutinating capacity remained intact in a 40 to 70°C range, but was lost at 80 °C. Similar results were reported by Bhattacharya et al. (1981) and Nanne and Aragón (1991). The stability of the extracts at various pH ranges demonstrated that these remained constant between pH 2 and pH 10, completely loosing hemagglutinating capacity at pH 11. Roberson and Strenght (1983) and Cammue et al. (1985) reported that the lectins from the seed of Vigna unguiculata and the tubercle Eranthis hyemalis maintained their hemagglutinating activity in a pH range of 2 to 12 for the Vigna extract, and from 3 to 11 for the Eranthis extract. Nanne and Aragón (1991) found that the lectin of Erythrina costaricensis is stable at a pH range of 2 to 10.
The molecular weight of the lectins studied, determined by gel filtration, was approximately 50 kDa, similar to other Erythrina lectins (Pérez 1984, Lis and Sharon 1985). By polyacrylamide gel electrophoresis (SDS-PAGE), a molecular weight close to 25 kDa was determined, suggesting that each lectin is formed by two subunits of similar molecular weight.

Acknowledgements
We gratefully acknowledge the International Foundation for Science (IFS, grant # F/2279-1) and the University of Costa Rica for the financial support and Jorge Gómez Laurito, School of Biology, University of Costa Rica, for the taxonomical identification of the Erythrina trees.

Resumen
Las diferentes especies de Erythrina se encuentran ampliamente distribuidas en Costa Rica y se las conoce popularmente con el nombre de "poró". En el presente estudio, se seleccionaron dos especies: Erythrina poeppigiana y Erythrina steyermarkii. Se prepararon extractos de las semillas en solución tampón salina de fosfatos y se verificó la presencia de lectinas en ellos mediante la técnica de hemaglutinación, utilizando eritrocitos humanos. Se trató de demostrar un efecto selectivo de la hemaglutinación empleando eritrocitos de varias especies de mamíferos, específicamente de carnero, caballo y conejo. Solo los eritrocitos de conejo fueron aglutinados con la lectina de E. steyermarkii. El efecto hemaglutinante de las dos lectinas fue inhibido con los siguientes carbohidratos: D-galactosa, N-D-acetil galactosamina, D-lactosa y D-rafinosa. La lectina de E. steyermarkii también fue inhibida con L-rhamnosa. Las dos lectinas fueron aisladas por filtración en gel y cromatografìa de afinidad, usando lactosa como ligando. Las fracciones que resultaron positivas se analizaron mediante la técnica de electroforesis en gel de poliacrilamida y duodecil sulfato de sodio (SDS-PAGE). Con la filtración en gel y el SDS-PAGE, se comprobó que las dos lectinas tienen una masa molecular aparente de 50 kDa y que están formadas por dos subunidades de 25 kDa, aproximadamente. Se buscó un efecto mitogénico en las dos lectinas y se encontró que sólo E. steyermarkii lo manifestaba sobre células mononucleares humanas aisladas de sangre periférica. Se determinó la estabilidad de las lectinas en diferentes ámbitos de temperatura (4 a 100°C) y de pH (2 a 12 ). Las dos lectinas se mantuvieron estables en un rango de temperatura de 40 a 70°C y en un pH de 2 a 10.

References
Adar, R. & N. Sharon. 1996. Mutational studies of the amino acids residues in the combining site of Erythrina corallodendron. Eur. J. Biochem. 239: 668-674. [ Links ]
Allen, N.K. & L. Brillantine. 1969. A survey of hemagglutinins in various seeds. J. Immunol. 102: 1295-1299. [ Links ]
Barondes, S.H. 1981. Lectins: their multiple endogenous cellular functions. Ann. Rev. Biochem. 50: 207-231. [ Links ]
Bhattacharyya, L., P.K. Das & A. Sen. 1981. Purification and properties of D-galactose binding lectins from some Erythrina species. Comparison of properties of lectins from E. indica, E. arborescens, E. suberosa and E. lithosperma. Arch. Biochem. Biophys. 211: 459-470. [ Links ]
Bøyum, A. 1976. Isolation of lymphocytes, granulocytes and macrophages. Scand. J. Immunol. 5: 9-15. [ Links ]
Bradford, M. 1976. A rapid sensitive method fot the quantitation of microgram quantities of protein utilizing the principle of protein dye binding. Anal. Biochem. 72: 248-254. [ Links ]
Cammue, B. P., B. Peeters & W. J. Peumanns. 1985. Isolation and partial characterization of an N-acetylgalactosamine specific lectin from winter aconite (Eranthis hyemalis) root tubers. Biochem. J. 227: 949-955. [ Links ]
Cunnick, J.E., K. Sakamoto, S.K. Chapes, G. W. Fortner & D. Takemoto. 1990. Induction of tumor cytotoxic cells using a protein from bitter melon (Momordica charantia). Cell. Immunol. 126: 278-289. [ Links ]
Figols, J., J.F. Madrid & J. Cervós-Navarro. 1991. Lectins as differentiation markers of human gliomas. Histol. Histopath. 6: 79-85 [ Links ]
González, L., E. Saénz, S. Rodríguez & O. Porras. 1992. Cuantificación de linfocitos T mediante rosetas con glóbulos de carnero y respuesta mitogénica a lectinas. Rev. Cost. Cienc. Med. 13: 37-42. [ Links ]
Laemmli, U.K. 1970. Cleavage of structural proteins during the assembly of the head of the bacteriophage T4. Nature. 227: 680-685. [ Links ]
Lis, H & N. Sharon. 1985. Isolation and properties of N-acetyllactosamine-specific lectins from nine Erythrina species. Phytochem. 24: 2803-2809. [ Links ]
Männel, D.N., H. Becher, A. Gundt, A. Kist & H. Franz. 1990. Induction of tumor necrosis factor expression by a lectin from Viscum album. Cancer. Immnol. Immunother. 33: 177-182. [ Links ]
Nanne-Echandi, C.I & F. Aragón-Ortiz. 1991. Aislamiento, purificación y caracterización de una lectina de la semilla del poró, Erythrina costaricensis. (Leguminosae). Rev. Biol. Trop. 39: 15-21. [ Links ]
Pérez, G. 1984. Isolation and characterization of a lectin from the seeds of Erythrina edulis. Phytochem. 23: 1045-1048. [ Links ]
Quiocho, F.A. 1986. Carbohydrate-binding proteins. Tertiary structures and protein-sugar interactions. Ann. Rev. Biochem. 55: 287-315. [ Links ]
Roberson, B.J & D.R. Strenght. 1983. Characterization of a lectin from cowpeas. Prep. Biochem. 13: 45-56. [ Links ]
Sansford, G.L & S. Harris-Hooker. 1990. Stimulation of vascular cell proliferation by ß-galactoside specific lectins. FASEB J. 4: 2912-2918. [ Links ]
Slesak, B., J. Boguslawska-Jaworska, J. Pejcz & A. Harlozinska. 1989. Binding of lectins to human leukaemic cells. Folia. Hematol. 116: 251:259. [ Links ]
Slupsky, J.R., M. Duggan-Keen, L. A. Booth, A. Karpas, E.G. Rhodes, J.C. Cawley & M. Zuzel. 1993. The peanut agglutinin (PNA)-binding surface component of malignant plasma cells. Br. J. Haematol. 83: 567-573. [ Links ]
Tietz, H.J., T. Montag, H.D. Volk, E. Brose, R. Gamenberg, F.F. Weichold & T. Hiepe. 1991. Activation of human CD4+ and CD8+ cells by Sarcocystis gigantea lectin. Parasitol. Res. 77: 577-580. [ Links ]
Van Léuven, F., S. Torrekens, E. Van Damme, W. Peumans & H. Van den Berghe. 1993. Mannose-specific lectins bind a-2-macroglobulin and an unknown protein from human plasma. Protein Science. 2: 255-263 [ Links ].
1 Departamento de Bioquímica, Escuela de Medicina, Universidad de Costa Rica, 2060 San José, Costa Rica. Fax 207 5667. e-mail: silviaq@cariari.ucr.ac.cr, cnanne@cariari.ucr.ac.cr
2 Instituto Costarricense de Investigación y Enseñanza en Nutrición y Salud, INCIENSA, Tres Ríos, Costa Rica. Fax 279 5546