Services on Demand
Journal
Article
Indicators
Related links
Similars in SciELO
uBio
Share
---
On-line version ISSN 0034-7744Print version ISSN 0034-7744
Rev. biol. trop vol.46 n.2 San José Jun. 1998
Comunicación
Especies de Eimeria (Eucoccidida: Eimeriidae) en la rata de milpa Sigmodon hispidus de Costa Rica
Alfredo Castro, Misael Chinchilla, Olga M. Guerrero, Ricardo González
1
Recibido 11-VIII-1997. Corregido 5-II-1998. Aceptado 20-II-1998.
Abstract
Cotton rats (Sigmodon hispidus) were collected from Ojo de Agua, Alajuela (N=74) and Cañas, Guanacaste (N=29). Feces had 31 E. sigmodontis, nine E. tuskegeensis, eight E. roperi, three E. webbae and two Eimeria sp. This is the first report of these coccidian parasites for Costa Rica.

Key words
Eimeria, Coccidia, Sigmodon hispidus, prevalence, cotton rat.

Barnard et al. (1974) describieron varios eimeridios en ratas de esta especie en Alabama, E.U.A. Prácticamente las mismas especies han sido encontradas en Texas por McAllister et al. (1991). Sólo en el caso de E. sigmodontis y E. tuskegeensis se ha estudiado el ciclo evolutivo completo (Ernst et al. 1977, Current et al. 1981). El resto de las especies han sido caracterizadas fundamentalmente por la morfología del ooquiste y sus componentes, esporoquistes y esporozoitos.
Tomando en cuenta estas características, estudiamos los coccidios encontrados en S. hispidus Ojo de Agua de Alajuela (74 especímenes) y Cañas de Guanacaste (29 animales), Costa Rica. Se examinó el contenido intestinal en solución salina al 0.85%, determinándose la morfología general (Barnard et al. 1974) y el tamaño de los ooquistes.
Para hacer el mismo análisis con los esporoquistes y esporozoitos, esos ooquistes fueron madurados en dicromato de potasio al 2.5%, a temperatura ambiente (21°C) y con agitación constante (Kruidener et al. 1960, Klesius et al. 1979).
La prevalencia (Cuadro 1) y morfología (Cuadro 2) se basan en:.
a. Apariencia corrugada del ooquiste y color amarillo o pardo amarillento de sus dos membranas : E. tuskegeensis.
b. Micropilo característico (Barnard et al. 1974): Eimeria sp.
c. Forma redondeada y pequeñez: E. webbae.
d. Colores celeste y pardo respectivamente de las membrana externa e interna de los ooquistes: E. roperi.



CUADRO 1

Prevalencia de especies de Eimeria en S. hispidus de Costa Rica. Comparación con la observada en otras regiones

Especies

Costa Rica

Localización

Ojo de Agua

Cañas

Total

Alabama

Texas

E. sigmodontis
21/74*
10/29
31/03
163/193
3/26
E. tuskegeensis
8/74
1/29
9/103
44/193
1/19
E. roperi
4/74
4/29
8/103
79/193
3./26
E. webbae
1/74
2/29
3/103
90/193
4/26
Eimera sp.
0
2/29
2/103
(7/193)
1/19
* Número de muestras positivas/total de muestras estudiadas.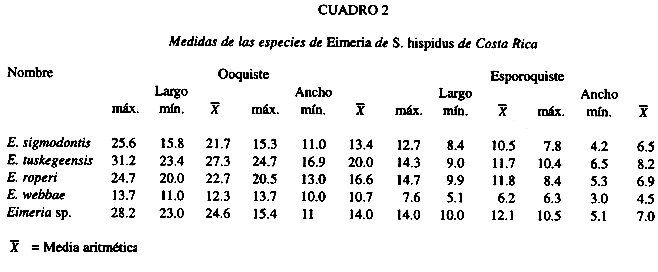 Los porcentajes de infección encontrados en Costa Rica (Cuadro 1) están cerca de los informados en Texas (McAllister et al. 1991), pero lejos de los de Alabama. Estas diferencias podrían deberse a que tanto en Texas como en Costa Rica se recolectó en campo abierto, y en Alabama, en parques gubernamentales protegidos donde hay un mayor contacto entre los roedores, con la correspondiente trasmisión masiva de los parásitos.
Este informe, además del hallazgo de una variedad de E. sigmodontis que se encuentra en proceso de descripción, enriquece el conocimiento de la fauna protozoológica de la llamada rata de milpa en Costa Rica.

Referencias
Barnard, W.P., J.V. Ernest & C.F. Dixon. 1974. Coccidia of the cotton rat, Sigmodon hispidus from Alabama. J. Parasitol. 60: 406-414. [ Links ]
Current, W.L., J.V. Ernst & G.W. Benz. 1981. Endogenous stages of Eimeria tuskegeensis (Protozoa: Eimeriidae) in the cotton rat, Sigmodon hispidus. J. Parasitol. 67: 204-213. [ Links ]
Ernst, J.V., K.S. Todd, Jr & W.P. Barnard. 1977. Endogenous stages of Eimeria sigmodontis (Protozoa: Eimeriidae) in the cotton rat, Sigmodon hispidus. Int. J. Parasitol. 7: 373-381. [ Links ]
Klesius. P.H. & S.E. Hinds. 1979. Strain-Dependent differences in murine. Susceptibility to Coccidia. Infect. Immun. 26- 1111-1115. [ Links ]
Kruidenier, F. J., N.D. Levine & V. Ivens. 1960. Eimeria (Protozoa: Eimeriidae) from the rice rat and pygmy mouse en México. Tr. Ill. Acad. Sci. 52: 100-101. [ Links ]
Mc Allister, C.T., S.J. Upton, J.V. Planz & T.S. De Walt. 1991. New host and locality records of Coccidia (Apicomplexa: Eimeriidae) from rodents in the Southwestern and Western United States. J. Parasitol. 77: 1016-1019. [ Links ]
1Centro de Investigación en Enfermedades Tropicales, CIET, Departamento Parasitología, Facultad de Microbiología, Universidad de Costa Rica.