Services on Demand
Journal
Article
Indicators
Related links
Similars in SciELO
uBio
Share
---
On-line version ISSN 0034-7744Print version ISSN 0034-7744
Rev. biol. trop vol.46 n.3 San José Sep. 1998
Reproductive patterns of Aratus pisonii (Decapoda: Grapsidae)
from an estuarine area of São Paulo Northern Coast, Brazil
Maria Helena de Arruda Leme
1
Maria Lucia Negreiros-Fransozo
2
Received 8-VIII-1997. Corrected 8-VI-1998. Accepted 18-VI-1998.

Abstract
This paper describes the frequency of occurrence and reproductive patterns of the tree mangrove crab Aratus pisonii. Monthly samples were taken from January 1993 to June 1994 in an estuarine mangrove from Ubatuba region, Brazil. A total of 1 078 animals, 489 males and 589 females (131 ovigerous females) were collected. Carapace width ranged from 4.2 to 25.9 mm. A summer reproductive peak followed by a recruitment juvenile pulse was verified. Females were more abundant than males in the intermediate size classes. The sex-ratio in several months was biased towards females, suggesting a poligynous population and migration of females to mangrove fringes at the time of incubation and spawning.

Key words
Grapsidae, Reproduction, Sex-ratio, Aratus pisonii, Brazil.

The tree crab Aratus pisonii (H. Milne Edwards 1837) is a tropical sesarminae species widely distributed in the western Atlantic from central Florida to Brazil, and in the eastern Pacific from Nicaragua to Peru (Melo 1996), being commonly found on the upper littoral zone in mangroves.
Many aspects concerning to the life cycle and population biology of A. pisonii have been studied in several environments (Hartnoll 1965, Warner 1967, Díaz and Conde 1989, Conde and Díaz 1989a b). Those studies have revealed the large plasticity of the life history features shown by this species' populations inhabiting different environments.
It is well known that reproductive periodicity may vary along a latitudinal gradient as a function of environmental changes. The relative importance of a given factor as cueing the initiation of reproductive activities varies among species and habitats. The identification of this factor can clarify the causes of annual abundance fluctuations in natural populations.
The frequency of occurrence and the reproductive period of the tree mangrove crab A. pisonii in subtropical estuarine mangrove system (230 29' S, 45010' W) near the austral limit of its Western Atlantic distribution are analyzed in this study to provide information for further comparative work.

Materials and Methods
Ubatuba is located in the northern coast of São Paulo State, Brazil. The climate in this region is tropical humid tending to subtropical. Rainfall is more intense from September to March (spring to summer). The "Comprido" and "Escuro" streams are the freshwater resource of the area and they drain into the Fortaleza Bay. The salinity varies widely due the mixed tide regime in that region.
Monthly samples were carried out from January 1993 to June 1994 in the fringe area of mangrove near to the water, where the abundance of A. pisonii had been previously observed to be higher than in inlet areas. The animals were captured by hand from the roots and branches of the mangrove trees. Samplings consisted of 1 hour catch-effort sessions conducted by two people during low tide. All crabs were sexed and presence or absence of eggs in the females was recorded. Their carapace width (CW) was measured to the nearest 0.1 mm using a Vernier caliper. The crabs were grouped into eleven size classes from 4.1 to 26.0 mm CW.
Recruitment pulses were verified in frequency of individuals measuring from 4.1 to 8.0 mm CW. Individuals smaller than 4.1 mm CW were not considered due to the difficulty to determine accurately their sex.
The reproductive period was determined based on ovigerous female frequency in relation to mature female along the year. Since the smallest ovigerous females obtained measured 15.0 mm CW, only crabs grouped in the 14.1-16.0 mm size class or larger were regarded mature. Reproductive periodicity was statistically examined by means of binomial proportion analyses (Goodman 1965). The sex ratio in each month and size class were examined by this analysis too. The significance level adopted for all analyses were 5%.
Due to the terrestrial habits of this species the association between proportion of ovigerous females and two factors (monthly average air temperature and rainfall) was analyzed. Temperature and rainfall data were obtained in a nearby (4 Km) meteorological station of the University of São Paulo.

Results
During the study period, a total of 1 078 crabs were obtained; 489 males, 589 females, of which 131 were ovigerous.
The size of the individuals ranged from 4.2 to 25.9 mm CW. The overall size frequency distribution presented an unimodal and slightly asymmetric shape skewed to the left (Fig. 1). Average size of both males and females was 16.8 mm CW.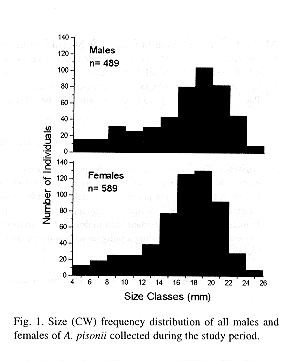 As shown in the Fig. 2, juvenile crabs from 4.1 to 8.0 mm CW were scarce being the highest frequencies recorded in June 1993, May and June 1994 (winter). Ovigerous females had been present during almost all the months, varying from 0 (June 1993) to 68.2 % (March 1993) of the adult female population. Mean size of ovigerous females was 19.2 ± 2.2 mm CW, ranging from 15.0 mm to 25.0 mm CW. The ovigerous-ratio (Fig. 3A and B) was positively correlated with monthly average rainfall (Pearson's linear correlation, r =0.61; p < 0.01) and temperature (r = 0.70; p < 0.005).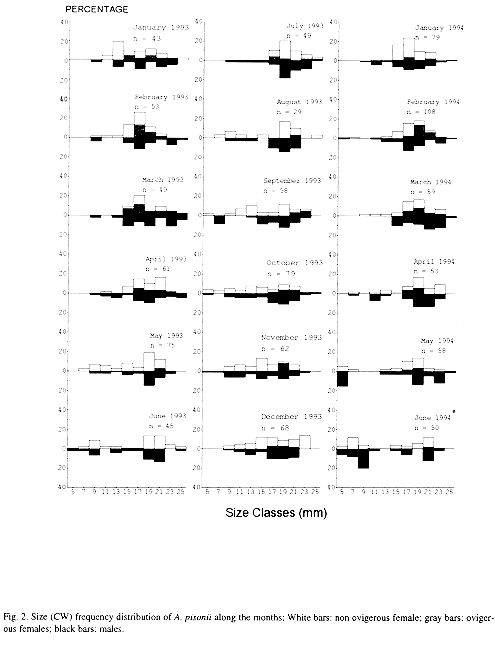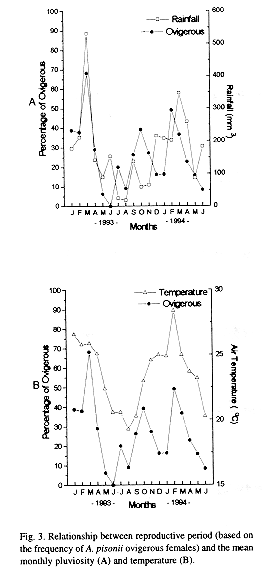 Overall sex-ratio was 1: 1.2, not differing statistically from the 1 : 1 ratio. Remarkable deviations from 1 : 1 ratio were registered in January, February and May 1993 and in January 1994, favouring females. Only in May and June 1994 males outnumbered females (Table 1).
Table 1
Variation in the sex-ratio of A. pisonii in each month.
Month/ year

Sample size

male/ female

Proportion

Jan / 1993

43

1 : 1.86*

Feb

53

1 : 1.52*

Mar

49

1 : 1.04

Apr

61

1 : 1.35

May

75

1 : 1.50*

Jun

45

1 : 1.04

Jul

49

1 : 1.04

Aug

29

1 : 1.23

Sep

58

1 : 1.15

Oct

79

1 : 1.02

Nov

62

1 : 1.06

Dec

68

1 : 1.34

Jan / 1994

79

1 : 1.82*

Feb

108

1 : 1.35

Mar

59

1 : 1.27

Apr

53

1 : 1.04

May

58

1.41 : 1

Jun

50

1.38 : 1
*Statistically different (Goodman test, p < 0.05)
Deviations were observed in some size classes, these differences being statistically significant in some cases (Table 2). Females were more numerous in the intermediate size classes, from 14.1 to 18.0 mm CW. Immature individuals from 4.1 to 14.0 mm CW did not present differences in sexual proportions. In large crabs from 22 to 24 mm CW, males were significantly more numerous than females (Goodman's test, p < 0.05). Only a few specimens larger than 24.0 mm were obtained.



Table 2
Variation in the sex-ratio of A. pisonii in each size class.
Size class (mm)

Sample size

Proportion male/

female

4.1 -- 6.0

29

1.23 : 1

6.1 -- 8.0

35

1 : 1.19

8.1 -- 10.0

58

1.23 : 1

10.1 -- 12.0

52

1 : 1

12.1 -- 14.0

70

1 : 1.26

14.1 -- 16.0

122

1 : 1.78*

16.1 -- 18.0

208

1 : 1.57*

18.1 -- 20.0

238

1 : 1.25

20.1 -- 22.0

176

1 : 1.12

22.1 -- 24.0

75

1.59 : 1*

24.1 -- 26.0

17

1.12 : 1
*Statistically different (Goodman test, p < 0.05)
Discussion
The overall size frequency distribution of A. pisonii is unimodal and asymmetric which usually reflects a population in equilibrium (Hartnoll and Bryant 1990). The modal variations in the size frequency distribution along the year were mainly caused by recruitment pulses, which were more evident in June 1993, May and June 1994 (late autumn and early winter). However, juveniles could be also found in other months, but in smaller frequencies. This conspicuous recruitment was probably a result of intense reproductive activity occured in March 1993 and February and March 1994 (summer). It can be supposed that the main period of megalopa settlement occurred from late summer to early autumn, since the larval development of this species includes four zoeal stages and a megalopa instar in approximately one month (Warner 1968).
This reproduction and recruitment pattern could be a result of the geographical location of the studied area, a transitional faunistic region with tropical humid climate tending to subtropical. In this latitude, intensive temperature changes are likely to occur more often than in the tropics. In this study the temperature was very correlated to the ovigerous rate as had been observed in other studies as the main factor influencing the reproduction (Fusaro 1980, Jones and Simons 1983, Siddiqui and Ahmed 1992).
An extended breeding season with a peak of higher activity during the rainy season was observed in the present study, as those obtained by Díaz and Conde (1989) and Conde and Díaz (1989a). Spawning in the rainy season may provide a selective advantage to intertidal decapods populations since that periods of higher rainfall rate can cause changes in the salinity of water (Pillay and Nair 1971, DeVries et al. 1983) and also promote an increase of nutrients concentration, favouring the development of planktotrophic larvae (Siddiqui and Ahmed 1992), and an increase of primary productivity and seston availability in the estuary (Rodriguez and Conde 1989). In the population studied herein, higher flow rate and seawards water velocity during the rainy season, are conditions that probably prevent zoeae from stranding and osmoregulatory stress.
In this study the sex-ratio does not differ from the 1 : 1 in the smallest classes but it does differ in the intermediate size classes favouring females and also in larger crabs favouring males, according to the "anomalous" pattern described by Wenner (1972). The highest female proportion in intermediate size classes (from 14 mm CW), match the size in which an important part of the population is sexually active. For A. pisonii, Warner (1967) suggests differential growth rates in which males reach large sizes faster due to the higher reproductive effort of females which do not molt when they are incubating eggs.
According to Giesel (1972) variations in the sex-ratio occur primarily during the main seasonal changes of environmental conditions. Warner (1967) reported that during the reproductive period of A. pisonii, females migrate from the interior of the mangrove to water edge increasing the relative female frequency. Peculiar characteristics of mangrove fringes, such as humidity conditions provide more suitable grounds to egg development and larval release (Emmerson 1994). Furthermore, female migration towards the fringes, possibly enhances the chances of mate encounters. Christy and Salmon (1984) assumed that sex-ratio is associated to the mating system of each species, but Willson and Pianka (1963) pointed out that this is not a cause-effect relationship. It could be suggested that female-biased sex-ratio observed herein may be related to a poligynous mating system in which males could mate with different females increasing the reproductive output in population (Giesel 1972). However, further investigations are necessary to confirm the relation between sex-ratio and mating system in A. pisonii as in other decapods.

Acknowledgements
To the " Conselho Nacional de Desenvolvimento Científico e Tecnológico - CNPq" that provided fellowship for the first author. To Adilson Fransozo from UNESP, Brazil for their suggestions. To the NEBECC members who helped us during the collections.

References
Christy J. H. & M. Salmon. 1984. Ecology and evolution of mating systems of fiddler crabs (Genus Uca). Biol. Rev. 59: 483-509. [ Links ]
Conde J. E. & H. Díaz. 1989a. The mangrove tree crab Aratus pisonii in a tropical estuarine coastal lagoon. Estuar. Coast. Shelf Sci. 28: 639-650. [ Links ]
Conde J. E. & H. Díaz. 1989b. Productividad del habitat e historias de vida del cangrejo de mangle Aratus pisonii (H. Milne Edwards) (Brachyura, Grapsidae). Bol. Inst. Oceanogr. Venezuela. Univ. Oriente 28 : 113-120. [ Links ]
DeVries M. C., C. E. Epifanio & A. I. Dittel. 1983.Reproductive period of the tropical crab Callinectes arcuatus Ordway in Central America. Estuar. Coast. and Shelf Sci. 17: 709-716. [ Links ]
Díaz H. & J. E. Conde. 1989. Population dynamics and life history of the mangrove crab Aratus pisonii (Brachyura, Grapsidae) in a marine environment. Bull. Mar. Sci. 45: 148-163. [ Links ]
Emmerson W. D. 1994. Seasonal breeding cycles and sex ratios of eight species of crabs from Mgazana, a mangrove estuary in Transkei, Southern Africa. J. Crustacean Biol. 14: 568- 578. [ Links ]
Fusaro C. 1980. Temperature and egg production by the sand crab, Emerita analoga (Stimpson) (Decapoda, Anomura). Crustaceana. 38: 55-60. [ Links ]
Giesel J. T. 1972. Sex ratio, rate of evolution, and environmental heterogeneity. Am. Nat. 106: 380-387. [ Links ]
Goodman L. A. 1965. On simultaneous confidence intervals for multinomial proportions. Technometrics 7: 247-254. [ Links ]
Hartnoll R. G. 1965. Notes on the marine grapsid crabs of Jamaica. Proc. Linn. Soc. Lond. 176: 113-147. [ Links ]
Hartnoll R. G. & A. D. Bryant. 1990. Size-frequency distributions in decapod crustacea - the quick, the dead, and the cast-offs. J. Crustacean Biol. 10: 14-19. [ Links ]
Jones M. B. & M. J. Simons. 1983. Latitudinal variation in reproductive characteristics of a mud crab, Helice crassa (Grapsidae). Bull. Mar. Sci. 33: 656-670. [ Links ]
Melo G. A. S. 1996. Manual de identificação dos Brachyura (caranguejos e siris) do litoral brasileiro. Plêiade, São Paulo. 603 p. [ Links ]
Pillay K. K. & N. B. Nair. 1971. The anual reproductive cycles of Uca annulipes, Portunus pelagicus and Metapenaeus affinis (Decapoda: Crustacea) from the South-West coast of India. Mar. Biol. 11: 152-166. [ Links ]
Rodriguez G. L. & J. E. Conde. 1989. Producción primaria en los estuários tropicales de la costa caribeña de Venezuela. Rev. Biol. Trop. 37: 213-216. [ Links ]
Siddiqui G. & M. Ahmed. 1992. Breeding seasons of some marine crabs found near Karachi (Pakistan: Arabian sea).Mar. Res. 1: 37-48. [ Links ]
Warner G. F. 1967. The life history of the mangrove tree crab, Aratus pisoni. J. Zool. London. 153: 321-335. [ Links ]
Warner G. F. 1968. The larval development of the mangrove tree crab Aratus pisonii (H.Milne Edwards), reared in laboratory (Brachyura, Grapsidae). Crustaceana 2: 249-258. [ Links ]
Wenner A. M. 1972. Sex-ratio as a function of size in marine Crustacea. Am. Nat. 106: 321-350. [ Links ]
Willson M. F. & E. R. Pianka. 1963. Sexual seletion, sex ratio and mating system. Am. Nat. 97: 405-407. [ Links ]
1 Departamento de Zoologia - Instituto de Biociências - Caixa Postal 510 - Universidade Estadual Paulista - UNESP - 18618-000 Botucatu (SP), Brasil. E-mail zoologia@laser.com.br.
2 Departamento de Zoologia - Instituto de Biociências e Centro de Aqüicultura - Caixa Postal 510 - Universidade Estadual Paulista - UNESP - 18618-000 Botucatu (SP), Brasil. Fax 014 - 821 3744. E-mail zoologia@laser.com.br.