Introduction
The genus Bulbophyllum Thouars is one of the largest plant genera, with well over 2,000 species in the tropics and subtropics worldwide (Pridgeonet al. 2014). So far, 123 species in 14 sections have been recorded for Vietnam (Averyanov & Averyanova 2003, Averyanov et al. 2016, Truong &Sridith 2016, Averyanovet al. 2017, Nguyen & Averyanov 2017, Averyanovet al. 2018). We add another species to the list: B. hainanense Z.H.Tsi, found in Hon Ba nature reserve, Khanh Hoa province.
According to Pridgeonet al. (2014) it belongs to section AeschynanthoidesCarr (1930). Species of this section resemble species of section Stachysanthes (Blume) Averyanov (1994) in the sense that both have minute pseudobulbs, racemose inflorescences, and flowers of rather simple structure. The distinguishing feature of Sect. Aeschynanthoides is the node displacement at the base of the flower: the floral bract is attached well below the basal node of the pedicel (Figure 1C, left). In section Stachysanthes the basal node of the pedicel is at the same level with the floral bract attachment. In addition, the flowers are lemon yellow, and/or purple staining predominate in Sect. Aeschynanthoides, whereas the flowers in species of section Stachysanthes are usually white or creamy yellow, less frequently ochre-orange or brick-red. Purple staining occurs only sporadically in section Stachysanthes. Because of an error in the key to the species in Chen and Vermeulen (2009), both B. drymoglossum Maxim. And B. hainanense were incorrectly placed in section Stachysanthes instead of Aeschynanthoides.
So far, only a single species of sect. Aeschynanthoide swas known from Vietnam: B. hymenanthum Hook.f. (Seidenfaden 1992, Averyanov 1994, Averyanov & Averyanova 2003). Bulbophyllum hainanenseis the second species recorded for Vietnam. We present pictures of both for comparison.
Materials and methods
The description of Bulbophyllum hainanenseis based on the living material found in Hon Ba nature reserve, KhanhHoa province. The measurements and description were prepared from living plants. Material was preserved in 70% ethanol and stored at VNM herbarium (ITB - Ho Chi Minh City). All the photos were taken with a Canon 600D fitted with an EF-S 60mm f/2.8 Macro USM lens. The information and the pictures of B. hymenanthum (Figure 2) from Vietnam are provided by Mr. Van Canh Nguyen from Nam Nung Nature Reserve. Terminology for the morphological description follows Beentje (2012).
Taxonomic treatment
Bulbophyllum hainanense Z.H.Tsi (Figure 1)
TYPE: China. Hainan: on a tree in forest, 500 m, Nov. 1978, Z.H. Tsi 1 (holotype: PE!).
Epiphytic herb. Rhizome creeping, slender. Pseudobulb minute, not or hardly thicker than the rhizome. Leaves sessile, fleshy, broadly elliptic, ca. 10- 12 mm long, 6-8 mm wide, apex acute. Inflorescence from the base of the pseudobulbs, erect, ca. 2.5 cm long; 1-2-flowered; peduncle bracts 3, with 1 approx. half-way the peduncle, the longest ca. 1.8 mm long. Rachisca. 2 mm long, floral bracts ca. 1.5 mm long. Flowers wide open, sepals and petals yellow, labellum yellow with purple ridges; pedicel plus ovary 6.0-6.5 mm long, basal node ca. 0.4 mm above the floral bract attachment. Dorsal sepal ovate, ca. 6 mm long, 4 mm wide apex acute; lateral sepals free ovate, ca. 7 mm long, 4 mm wide, apex acute. Petals elliptic, ca. 2 mm long, 1 mm wide, apex rounded. Labellum distinctly curved, thin, ovate, tapering towards the apex, acute, glabrous; adaxially with two ridges starting near the base and continuing up to 2/3 along the length of the lip, channeled in between. Column yellow, ca. 1.8 mm long, stelidia deltoid, acute, with a small, triangular, acute tooth along the lower margin. Anther cap with a slight, rounded ridge towards its base. Pollinia 2, elliptic.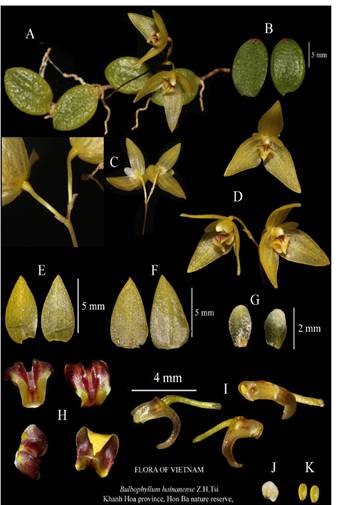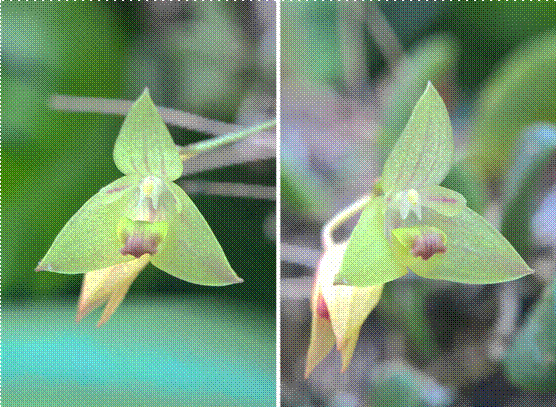 Distribution in vietnam: Hon Ba nature reserve only, in Khanh Hoa province (BV 320, VNM). Distribution elsewhere: China, Hainan.
Ecology: Epiphytic, usually on tree trunks, sometimes on branches, above 1000 m a.s.l.cross diagnosis: Within section Aeschynanthoides, it shares the presence of two ridges on the adaxial side of the lip with B. drymoglossumMaximovich (1887), but differs by the tapering, acute lip apex. It differs from B. hymenanthum (the other species of section Aeschynanthoidesnative to Vietnam, Figure 2) by the minute, triangular tooth along the lower edge of the stelidia; in B. hymenanthum a conspicuous, rounded wing is present.